Chinese Banks Are Hiring People to Manage $930 Billion of Wealth
(Bloomberg) -- In the cutthroat market for Asian private bankers, you're either a hunter or a farmer.
International banks such as UBS Group AG and Credit Suisse Group AG are battling to hire wealth managers with portfolios worth hundreds of millions of dollars to gain a bigger share of Asia's rapidly expanding pool of millionaires. Those recruits are known as the hunters. Their Chinese counterparts don't have such a challenge gaining rich customers -- they already have more than half a million wealthy clients in their home market. What they need are farmers who can grow offshore investments, helping rich Chinese investors navigate overseas markets.
"We don't need people to hunt for customers. We already have a lot of customers," said Joseph Tam, head of private banking at Industrial Bank Co. in Hong Kong. "Foreign banks are expanding their assets under management through hiring as they don't really have the client pool."
What that means is that Asia's booming private banking market is not just offering inflated salaries to poach existing wealth managers for international firms, but is also sucking in staff from commercial banks, insurance companies and brokerages to meet the needs of the big Chinese players, private bankers and recruiters said. In Hong Kong, there are about 3,800 wealth practitioners including relationship managers and investment advisers, according to the Private Wealth Management Association. But there are 100,000 in banking and 62,000 in insurance, according to the latest government statistics.
"Chinese banks can find private bankers through more channels," said Kenny Lam, group president of Noah Holdings Ltd., China's first private asset manager for the ultra rich. "Most Chinese banks are servicing emerging high-net-worth individuals. They probably wouldn't need someone from a company like UBS."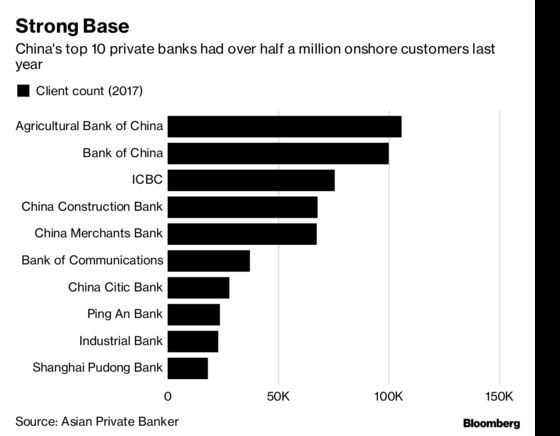 Driving the recruitment binge is a huge potential pool of money. Since Bank of China Ltd. set up China's first private banking operation in 2007, the nation's personal wealth has swelled to an estimated $21 trillion in 2017, according to Boston Consulting Group data. Most of that remains in China, shackled by government regulations designed to prevent capital outflows. But a sizable chunk -- about $930 billion -- sits abroad.
The number of onshore clients at China's top 10 private banks increased 17 percent to 540,000 last year, according to Asian Private Banker. Fuzhou-based Industrial Bank, which has more than 27,000 private-banking clients in China, estimates that about 60 percent of China's millionaires have overseas assets.
"The key priority for most of the Chinese banks is hiring someone who has a tremendous set of soft skills to help them maintain the client relationships," said Rick Chung, a Hong Kong-based recruiter for banking and finance at Randstad NV.
Most products and services offered by China's wealth managers are still relatively simple, focusing on equities, bonds and insurance, while global firms offer more diverse options, including philanthropy, sustainable investing and art. Average total compensation for farmers, including bonuses, is about 30 percent to 50 percent less than for hunters, according to wealth managers and recruiters.
Private banking teams at Chinese banks in Hong Kong also tend to be smaller, compared with international rivals. Industrial & Commercial Bank of China (Asia) Ltd., which started its offshore private banking business in Hong Kong in 2008, has about 10 relationship managers and aims to take the number to 20 in three to five years, according to Zheng Yuan, the firm's deputy head of private banking. A top-20 Asian private bank operated by BOC Hong Kong (Holdings) Ltd., the overseas subsidiary of China's fourth-largest lender, has about 120 relationship managers and wants to boost headcount by at least 20 percent, according to an interview in June.
That's not to say that the international and mainland banks aren't competing head to head in some areas. Both sides need to hire Mandarin speakers, and commercial bankers who have a good client network, product knowledge and skills are also in high demand.
China Merchants Bank Co., the nation's largest wealth manager by assets, aims to become the largest private bank in Asia, Vice President Liu Jianjun said in an interview in 2017. The Chinese bank's assets under management came second in the region, behind UBS, Asian Private Banker data showed. Competitors BOC and ICBC, the world's largest bank by assets, are also developing private banking businesses in Hong Kong as their clients invest overseas.
While the Chinese banks have a large domestic client base, they still lag behind their overseas rivals in private banking in Singapore and Hong Kong, said Tjun Tang, senior partner and managing director at Boston Consulting Group in Hong Kong.
"They are starting from two very different positions," he said. "It will take some time to build the assets under management for Chinese banks in Hong Kong and Singapore for the private banking sector."