Secret Hedge-Fund Polls Imperil Market Integrity, U.K. MP Warns
(Bloomberg) -- Lucrative polls conducted in secret for hedge funds, revealed by a Bloomberg investigation into the 2016 Brexit vote, "risk damaging the reputation of U.K. financial markets," the head of an influential parliamentary committee has warned.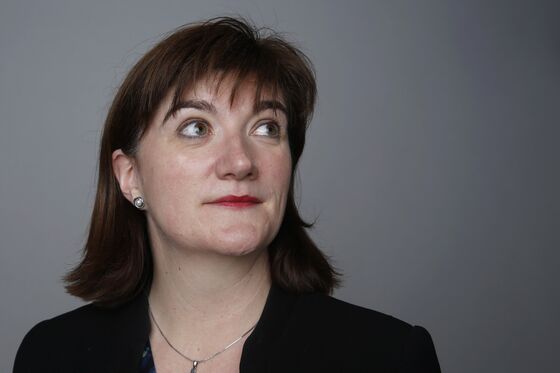 Nicky Morgan, who chairs Parliament's Treasury Committee, threatened in a letter to the head of the British Polling Council to explore new regulations for "market-sensitive polling" unless pollsters overhaul their own standards, beginning with more transparency about who they are working for. "The integrity of U.K. financial markets is a key concern of the Treasury Committee, and the Bloomberg report raises concerns in this regard," Morgan said in a statement Friday as she released the letter to the public.
The lawmaker also sent a copy of the letter to the head of the U.K. Financial Conduct Authority, Andrew Bailey. "The case for greater disclosure to the public about the polling companies' work for private clients, particularly during election and referendum campaigns, is overwhelming," she said in the letter.
The shock Brexit vote caused the British pound to post one of the steepest crashes ever of any major currency. Bloomberg revealed how a handful of hedge funds netted hundreds of millions of dollars off the market turmoil, thanks to secret exit polls they bought from leading polling firms.
Throughout the campaign, nervous financial markets moved in tandem with purported changes in public sentiment revealed by pollsters, especially in the final days before the vote. Bloomberg's investigation also revealed how some funds secretly bought access to such potentially market-moving polling data before it was published in the press, enabling trades that were practically sure bets.
It would have been a crime under U.K. law for pollsters to have given the public, or any section thereof, the same exit-polling data they streamed to hedge funds while voting was still underway in the June 23, 2016 referendum. Such provision of exit-polling data to private clients is of particular concern, Morgan said in her letter, which was addressed to John Curtice, the president of the BPC.
Morgan said in the statement that she worried "the legal restrictions on public disclosure of exit polls are being used by polling companies to give private clients profitable, and arguably unfair, trading opportunities."
The connection between private polls for hedge funds and market-moving public polls released by the same firms is also troubling for both markets and voters, she added. "Polling companies present themselves as neutral observers of public opinion. Yet behind the scenes, they are selling private polling data to hedge funds to make profitable trades."
Morgan said the BPC could require polling companies to inform prospective respondents that their answers may be used to help private clients make money. She also suggested they should disclose, when publishing public polls, whether they are conducting similar work for private clients.
She added that if the "BPC rules are not brought up to scratch, the committee may consider the case for regulatory oversight of market-sensitive polling."
In response, Curtice said executives from the nation's polling companies were taken aback, but are weighing Morgan's proposals.
"I can't tell you now whether or not we will do any of these things," Curtice said in a telephone interview. "We are somewhat surprised and disappointed that the chair of a select committee, whose job it is to take and evaluate evidence, seems to have come to a conclusion before taking any evidence."
New transparency rules for private polling could be applied to polls done for governments and political parties as well, Curtice said. He also said pollsters are "not exactly happy with the way that Mrs. Morgan had gone about this."
Curtice, 64, a professor of politics at the University of Strathclyde in Scotland, enjoys a rare level of trust across party lines and a cult following among British political junkies, serving as the go-to authority for the news media on exit polling and public opinion. Bloomberg revealed that during the EU referendum campaign, the polling company ICM paid Curtice to work on behalf of a hedge fund called Rokos Capital Management. For Rokos, trading on the Brexit vote generated more than $100 million, or 3 percent of the hedge fund's entire value, in a single day. It was among the most lucrative 24-hour periods ever for both pollsters and hedge funds.
Morgan's committee is among the most influential in the government with regards to financial conduct and regulations. Other U.K. lawmakers have called for an official parliamentary inquiry into Bloomberg's findings.
George Foulkes, a Labour member of the upper House of Lords, said in June that the practices were "astonishing" and that "the case for statutory regulation of polling companies is now overwhelming." Bob Seely, a Conservative member of parliament for the Isle of Wight, called it a "prima facie case" for an investigation.