Sea Growth, Tencent Tumble Show Divergence in Asia Gaming Future
(Bloomberg) -- The fortunes of Sea Ltd., the Singapore gaming and e-commerce platform, and one of its top backers, China's Tencent Holdings Ltd., are heading in increasingly divergent directions after largely trading in line with each other before this year. 
Sea is raising more than $6 billion this week -- the biggest U.S. secondary offering of 2021 -- to fund international expansion. Its shares had climbed more than 70% in 2021 through Wednesday's close on strong demand for its services. Meanwhile, Chinese tech giant Tencent sank 8.5% on Thursday after national authorities reportedly told the firm they will freeze the approval of new online games. The stock is down almost 15% for the year.
"The fact that Sea has done so well in the last week ahead of the financing shows that people are looking for an alternative in Southeast Asia as a proxy for gaming stocks," said Tellimer analyst Nirgunan Tiruchelvam, who has a buy rating on the shares.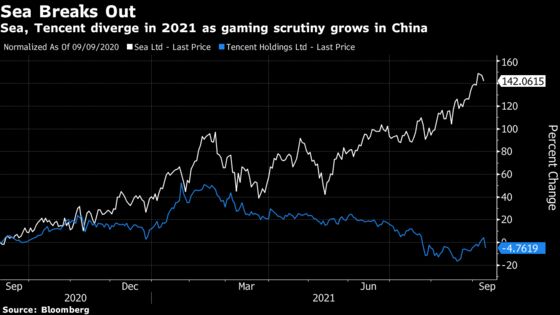 China's regulatory push is causing investors to dump the country's tech stocks, including Tencent. At the same time, neighboring nations are seeing a growth boom. This dichotomy should exacerbate the widening gap between Asian gaming companies.
Read more: Tencent Leads $60 Billion Loss as Game Crackdown Fears Grow
While uncertainty swirls around Chinese gaming stocks, Sea's gaming revenue could jump by as much as 50% per year through 2024 to $10.8 billion, Bloomberg Intelligence analyst Matthew Kanterman wrote in a note.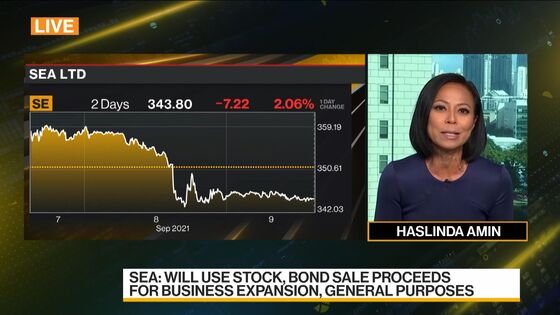 "China is the largest gaming market in the world," Tellimer's Tiruchelvam said. "With these new restrictions, the question is whether investors who want to invest in emerging-market gaming stocks would look to other markets where the demographics and the move to gaming is as prevalent as China. There's no other market that checks the boxes as clearly as Southeast Asia."