Scramble for Stock Protection Surpasses Fourth-Quarter Risk Rout
(Bloomberg) -- As bad as the two-day rout in U.S. stocks has been, a growing cohort of investors is betting the worst is yet to come.
Demand for protection against more losses over the next month is higher than at any time during the fourth-quarter rout that almost ended the bull market, going by relative levels of implied volatility on S&P 500 options. The derived price for one-month puts that pay off if the S&P 500 falls 10 percent below its current level has soared compared to the cost for calls that would pay out if the benchmark gauge rose 5 percent in that time.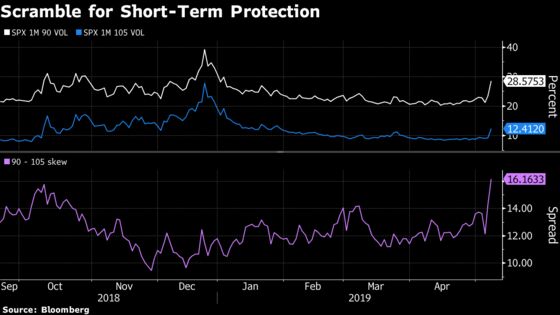 The divergence comes as the S&P 500 plunged 2.5 percent in the past two days following Donald Trump's threat to increase tariffs on billions of dollars of goods imported from China starting Friday. While some investors speculated the president was publicly negotiating ahead of a visit from a Chinese trade delegation, others have sought protection should the administration follow through.
"This is an event being priced in the very near term that didn't exist just a few days ago," said Pravit Chintawongvanich, Wells Fargo's equity derivative strategist, who emphasized that the reaction in very near-dated options was disproportionately large relative to longer-dated options. "Vol is well bid, and it makes sense given we suddenly got a 2 percent move out of nowhere."
For example, a near-the-money straddle on the S&P 500 that expires May 17 currently carries a cost of approximately $80. If an investor bought and held this position, it would barely make money if the S&P 500 surged to all-time highs or erased about two months' worth of gains over this stretch.
Another sign of the robust demand for protection: Call option volumes on the Cboe Volatility Index stood at 1.6 million as of 3:20 p.m. in New York, more than three times the amount of puts changing hands and more than 4 1/2 times the 20-day average for upside options bets on the VIX.
The fourth-quarter sell-off involved mass de-risking, with hedge fund leverage falling precipitously. Investors don't need to hedge what they don't own. In addition, institutional selling of options persisted even in the depths of the market drubbing, another factor keeping the cost of puts relative to calls, known as skew, relatively subdued at the end of 2018.