Scared of Banks on ECB Day? Here's a Stock-Picker's Back-Up
(Bloomberg) -- Another European Central Bank meeting has come and gone without surprises, but top-performing European stock fund managers say it's best to hedge your risks and invest in financial companies less reliant than lenders on the direction of interest rates.
Banking stocks, among the worst sectors in the region this year, were damaged by the June 14 ECB meeting after it became clear that rates will remain on hold until at least the next European summer, limiting their profit outlook. But investors from DWS and Berenberg show that you can have a large exposure to European financial stocks and still beat most market peers.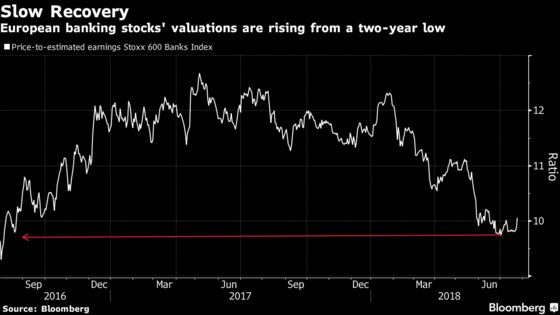 "You don't want to depend just on the direction of interest rates when investing in the financial sector," Britta Weidenbach, head of European equities at DWS in Frankfurt, said by phone. "We're stock pickers and look for companies that have a structural growth component and strong balance sheets."
Both the Berenberg European Focus fund, which beat 95 percent of peers with a 7.4 percent return this year, and the DWS Top Europe fund, which outpaced 74 percent of competitors through a 2 percent return, had about a fifth of their assets in European financial stocks. Both count Prudential Plc, the U.K. insurer, among their top holdings, according to the latest filings. DWS also held the German stock exchange Deutsche Boerse AG while Berenberg's fund owns shares in St. James's Place Plc, a financial services holding company.
"It's a good idea to avoid companies that are overly dependent on interest rates, we prefer quality growth companies," said Ulrich Urbahn, head of multi-asset strategy and research at Joh Berenberg Gossler & Co. KG in Frankfurt.
To be sure, bank stocks have taken on a more positive tone this week. The Stoxx 600 Banks gauge is up more than 3 percent and poised for the biggest weekly advance since January, encouraged by profit beats from UBS Group AG and U.S. banking giants, who hauled record revenue from investment banking and reported the lowest bad loan levels in almost a decade. Investors poured a record $345 million into the iShares MSCI Europe Financials ETF last week.
The ECB on Thursday reiterated its pledge to keep interest rates unchanged "at least through the summer of 2019," and repeated that additional support will come from its policy of reinvesting maturing debt. Banking stocks stayed higher after the decision and ECB President Mario Draghi's speech.