Scaramucci's Path to $20 Billion Runs Through a Hot China Market
(Bloomberg) -- An investment offering that most of the world has shunned is suddenly all the rage in China, and money managers from UBS Group AG to SkyBridge Capital are moving to grab a slice of the bounty.
Funds of hedge funds, which allocate client money across multiple managers, are opening at a record pace in Asia's largest economy even as their numbers dwindle globally after 10 straight years of outflows. While investors in the U.S. and Europe have grown disillusioned with the funds' fees and spotty performance, China's rich are looking past those concerns as they hunt for alternatives to increasingly risky domestic asset-management products.
The country hosted more than 100 fund-of-funds launches in the first five months of 2018, according to Shanghai Suntime Information Technology Co., and UBS is among firms with offerings in the works. SkyBridge, which specializes in multi-layered products, is hoping to attract as much as $1 billion from China as part of a plan to double client assets to $20 billion in five years.
China is expected to mint four times as many millionaires as the U.S. over the next five years. And while much of that wealth has flowed into asset-management products with implicit guarantees, China's government said late last year that investors can no longer count on getting bailed out when the investments go south. That's spurring demand for substitutes like funds of funds that advertise steady, if unspectacular, returns.
"The supply of high-quality fixed-income or quasi-fixed-income products is shrinking against the backdrop of implicit guarantees being broken, and a lot of clients who are used to such investments now need a new direction," said Liu Haiying, chief executive officer of Shanghai Suntime's asset-management unit.
SkyBridge is planning to develop and sell products in China and Hong Kong jointly with Chinese conglomerate HNA Group Co., including a yuan-denominated offering for onshore investors, according to Scaramucci. He said SkyBridge is working to secure distribution and asset management licenses in China and wants to develop at least one product by January. His goal is to lure between $500 million and $1 billion from the country in five years.
UBS hasn't disclosed details of its planned fund of funds offering, but the Swiss bank said in a reply to questions that it's part of a broader product plan for China's newly opened asset-management market.
Managers have struggled to gain traction for new funds of hedge funds elsewhere in the world. Only 13 opened in the first half of the year, as 28 of them were wound down, according to research firm Eurekahedge Pte.
Still, global firms will face stiff competition in China. Citic Securities Co. raised almost 8 billion yuan ($1.2 billion) in March for its largest-ever fund of hedge funds, followed by similar products from Guotai Junan Securities Co. and China Merchants Securities Co. Shanghai Suntime's asset-management unit is planning to double the assets in its offerings to 2 billion yuan later this year.
Chinese funds of hedge funds returned nearly 12 percent on average last year, beating all but one of nine other investment categories tracked by Beijing-based Ge Shang Wealth Advisory Ltd. The Shanghai Composite Index rose 6.6 percent during the period.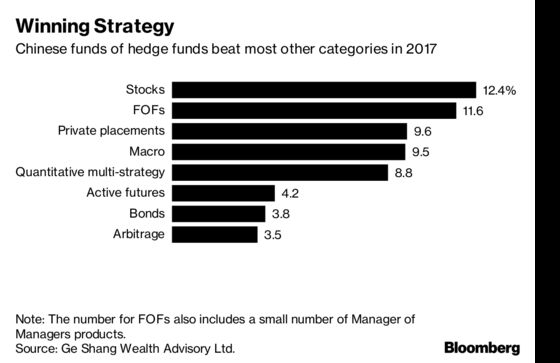 Given that funds of funds have a relatively short history in China, it's unclear how they might perform in more turbulent environments. But proponents are betting the products will offer some protection against the kind of stock-market volatility that rocked the country three years ago and has threatened to resurface in recent weeks amid deepening trade tensions with the U.S.
In this environment, "holding long positions on a single asset no longer works," said Xu Yisheng, who manages 4 billion yuan in funds of hedge funds at Beijing-based New Momentum Asset Management. "We've signed up quite a few new institutional clients this year and can feel that demand is increasing."
That's partly because the bursting of China's 2015 equity bubble has convinced many of the country's wealthy investors to settle for more sustainable returns.
"People used to routinely expect to double their money," said Zhang Chengming, chief investment officer of Guorong Securities Co.'s fund of fund operations. "They've become a lot more rational after the stocks rout in 2015. Nowadays 10 percent to 15 percent can make them very happy."