Saudi Stocks Slump as Minister Warns of 'Painful' Measures Ahead
(Bloomberg) -- Saudi Arabian stocks dropped the most in almost eight weeks after the kingdom's finance minister said "painful" measures -- including deep spending cuts -- were needed to respond to the coronavirus crisis and crash in oil prices.
The Tadawul All Share Index closed down 7.4%, the most since March 9. Oil giant Saudi Aramco retreated 5.2% to 30 riyals per share, while major lenders including Al Rajhi Bank, National Commercial Bank and Saudi British Bank plunged at least 6.7%.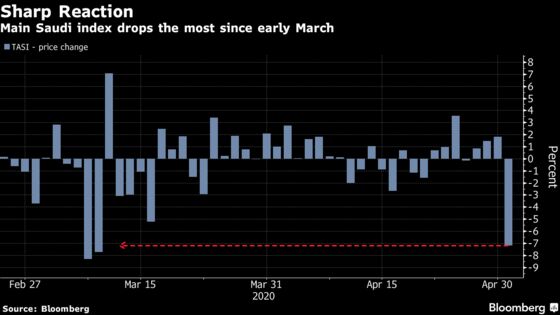 The world's biggest oil exporter hasn't witnessed "a crisis of this severity" in decades, Mohammed Al-Jadaan said in an interview with Saudi television station Al-Arabiya on Saturday, adding that government spending will have to be cut "very deeply." His comments were a sharp change in tone from more reassuring remarks he gave about the economy one week before.
Al-Jadaan "is the voice of the Saudi government and leadership," said Mohammed Ali Yasin, chief strategy officer at Al Dhabi Capital Ltd. in Abu Dhabi. Investors "took it as a warning of much higher spending cuts to come than the original 20%-30% expected earlier in the crisis."
On Friday, the government's outlook was cut to negative from stable by Moody's Investors Service, citing "increased downside risks to Saudi Arabia's fiscal strength." The rating was kept at A1, the fifth-highest, and one level above that of Fitch Ratings.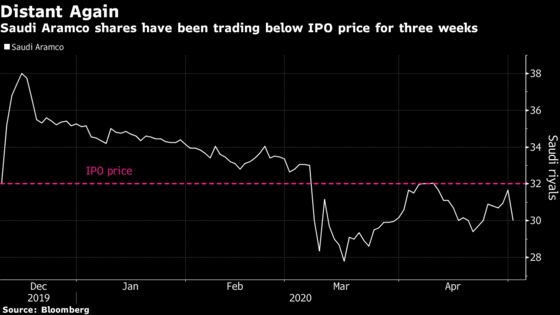 The collapse in crude prices and the government's drawdown of foreign reserves is putting more pressure on the Saudi riyal. Still, prices for 12-month dollar-riyal forward contracts are well short of their all-time high reached in 2016.
A currency devaluation would be too costly for Saudi Arabia and the better option is to adapt to the oil shock through fiscal changes, according to Goldman Sachs Group Inc.
Other market highlights on Sunday:
More than 100 Saudi stocks retreated between 9.5% and 10%.
Equity benchmarks in Kuwait, the United Arab Emirates, Qatar, Egypt and Israel also declined.
In Dubai, 10 stocks including Deyaar Development, Damac Properties and Dubai Investments fell between 4.8% and 5%, the maximum allowed.
Read more comments on Saudi Arabia and Middle Eastern markets:
Yasin, from Al Dhabi Capital in Abu Dhabi

Saudi Arabia's Al-Jadaan "was a voice that brought back people to the reality that post-corona and the lower oil prices are here to stay for a while."
"Investors also read that this is a signal that other Gulf governments will have to take a similar stance and therefore we saw negative reflection spreads to U.A.E. markets."
"The question to many is: will the other economic activities recover substantially to help offset some of the drop in oil revenues in 2020, or will it stay muted in H2/2020 and therefore keep the pressure on spending this year and next at least?"

Jameel Ahmad, a markets analyst at FXTM

The Saudi minister issues a "reality check," which is providing "a hangover risk for Middle East/Gulf stocks into the new trading week."
While the comments "were a blunt and honest assessment on the crisis that everyone, everywhere is facing, investors can digest this as an indication that some Middle East, Gulf authorities will not entertain providing the same patterns of fiscal support that the U.S. or even Japan has provided as an example."
The warning by Saudi Arabia that there could be reduced scope for support "highlights a possibility that the region's markets might start to lag behind developed peers."

Hasnain Malik, the head of equity strategy at Tellimer in Dubai

"The change in tone from the Finance Minister is stark"
"While his comments do not highlight any new risks in Saudi, they are a reminder to some of those in the equity market who mistake a turn in oil prices, from a very low level, with a fix for all of the kingdom's challenges."