Saudi Stocks Climb as Breakthrough Seen on Khashoggi Standoff
(Bloomberg) -- Saudi Arabian stocks advanced as U.S. media reported the kingdom may say Jamal Khashoggi disappeared because of a botched investigation, potentially diminishing the risk of punitive action from the U.S. and amid speculation funds tied to the government could be buying.
The Tadawul All Share Index rose 1.3 percent in Riyadh on Tuesday, reversing declines of as much as 4 percent. The government's $5 billion bonds due 2028 advanced, cutting the yield by nine basis points, and riyal-forward contracts fell the most since March.
Media outlets in the U.S. said the kingdom is preparing a report saying the writer died as the result of an interrogation that went wrong, and that the operation was carried out without clearance. Saudi Arabia has denied accusations that it murdered the columnist and has begun an internal investigation into his fate. U.S. Secretary of State Michael Pompeo arrived in Riyadh on Tuesday to discuss Khashoggi's disappearance.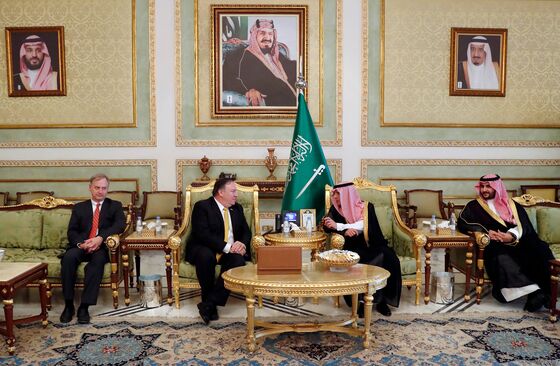 Saudi Arabia's main stock index slumped on Sunday amid concerns the nation's relationship with the U.S. was souring, but climbed in the past two sessions and is gaining 1.8 percent for the week. Some analysts speculate that government-related funds could be boosting the securities.
"There is no transparency in the stock market, and it is difficult to say who is supporting the market at the moment," said Naeem Aslam, the chief market analyst at Think Markets UK in London. "But under these circumstances, it is highly likely that funds tied to the government would intervene to restore confidence -- which is a rare commodity now."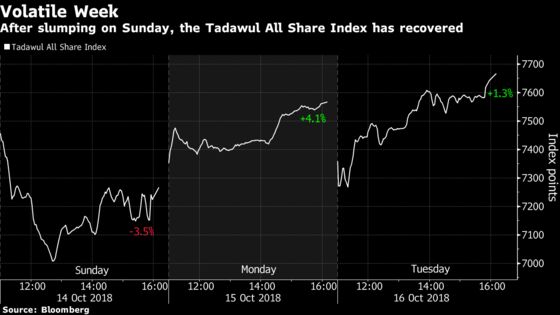 The tension comes at a bad moment for the kingdom, which has the biggest stock market in the Middle East and is implementing a series of reforms to align it to international bourses. Earlier this year, FTSE Russell and MSCI Inc. announced they will classify the country as an emerging market, which boosted sentiment for the market locally and abroad. Foreign investors have been net buyers stocks in Riyadh year-to-date.
Still, the largest exchange-traded fund invested in Saudi Arabia traded at a record discount to its net asset value as the kingdom comes under mounting international pressure. The $220 million iShares MSCI Saudi Arabia ETF was at a 3.5 percent discount to its NAV as of Monday.
Saudi Basic Industries Co. and Al Rajhi Bank contributed the most to gains on Tuesday, up 4.9 percent and 1.9 percent, respectively. Nearly 75 percent of the stocks on the index advanced.
"It already appears that the outline of a potential face-saving deal is emerging" on the Khashoggi probe, Michael Every, the head of Asia financial markets research at Rabobank in Hong Kong, wrote in a note.