Saudi Royals' Split Has Them Jousting Over California Mansion
(Bloomberg) -- It's divorce American-style for two Saudi royals who are duking it out in a Delaware court over an 18-bedroom Beverly Hills compound in a billionaire-filled gated community.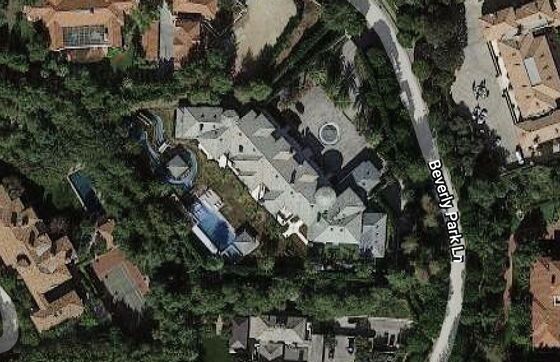 Prince Faisal Bin Abdullah Bin Abdulaziz Al Saud sued his former wife, Fahdah Husain Abdulrahman Al-Athel, seeking to stop her from selling the property until they decide how to split up the proceeds. He also wants back $41 million he lent to renovate the mansion.
The couple, who got married in 2001, bought the more than 27,000-square-foot structure in California in October 2011 for $16.8 million through a Delaware company. The property has two separate mansions on 2.3 acres, and includes 28 bathrooms. The neighbors of their property at 76 Beverly Park Lane include actor Mark Walhberg, Platinum Equity fund CEO Tom Gores and former San Francisco Giants slugger Barry Bonds.
The prince, active in the Saudi chapter of the humanitarian group Red Crescent, provided the loan to the Delaware company to renovate the Tuscan-style structure, installing state-of-the art "audio-visual systems,'' according to the complaint filed in Delaware Chancery Court. Designers also spent $1.3 million on "exterior lighting, furnishings and accessories,'' he said. The complex is now valued at $34 million on some real-estate web sites.
The prince accused his ex-wife of failing to properly maintain the property and pay taxes on it. Described in the complaint as "formerly Her Royal Highness Princess," she's now referred to as Ms. Alathel.
Matt Lewis, a Los Angeles lawyer who represented the former princess in a separate case last year, didn't immediately return a call for comment Tuesday.
Delaware is the corporate home to more than half of the U.S.'s publicly traded companies and 63 percent of Fortune 500 firms, and the chancery court specializes in hearing high-profile business disputes.
In the wake of their 2016 divorce, the couple is preparing to liquidate the Delaware company's sole asset -- the mansion complex -- according to the lawsuit.
The former princess "was grossly negligent in failing to maintain the property'' and her inaction has hurt the complex's value, the prince's lawyers said in the suit.
The case is His Royal Highness Prince Faisal Bin Abdullah Bin Abdulaziz Al Saud v. Fahdah Husain Abdulrahman Al-Athel, No. 2018-0364, Delaware Chancery Court (Wilmington).