The Saudis' Giant Wealth Fund Sold Almost All Its Tesla Shares Before Epic Surge
(Bloomberg) -- Saudi Arabia's sovereign-wealth fund sold almost all of its Tesla Inc. shares last quarter, nearly exiting what had been one of the largest holdings in the electric-car maker.
The Saudi Arabia Public Investment Fund held just 39,151 shares at the end of the year, according to a regulatory filing. The fund previously had more than 8.2 million shares and ranked among the five biggest owners, according to data compiled by Bloomberg.
The fund sold as Tesla went on an epic run to end the year, powered by a surprise profit and accelerated rollout of its next vehicle, the Model Y. But the stock has only built on that momentum in 2020, already surging more than 125% on record deliveries, another strong earnings report and an even faster introduction of the new crossover.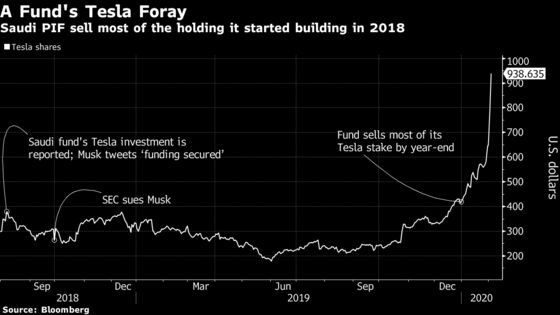 The Saudis factored prominently in Elon Musk's short-lived effort to take Tesla private a year and a half ago. After a report emerged that the fund had built a roughly $2 billion stake in the company, the billionaire chief executive officer tweeted that he had "funding secured" for a buyout.
Musk's posts stirred unease among Saudi officials about the publicity surrounding their potential role, people familiar with the matter said at the time. They were unhappy when Musk described his talks with the fund in an August 2018 blog post and used the negotiations to try to justify his claim to having lined up funding to go private.
The Saudi fund announced in September 2018 that it would invest more than $1 billion in Lucid Motors Inc., an EV startup managed by the former chief engineer of Tesla's Model S. Days later, the U.S. Securities and Exchange Commission sued Musk, eventually resulting in him and Tesla each paying $20 million in penalties. The CEO also relinquished the chairman role for three years.
Saudi Arabia's influence on Silicon Valley has come under withering criticism since the October 2018 murder of journalist Jamal Khashoggi, which the U.S. Central Intelligence Agency has blamed directly on Saudi Crown Prince Mohammed bin Salman. Uber Technologies Inc., which received $3.5 billion in 2016, came under particular scrutiny.
In its filing Tuesday, the fund reported that its Uber holding was unchanged last quarter.