Saudi Net Foreign Assets Rise to Highest This Year on Oil Prices
(Bloomberg) -- Saudi Arabia's net foreign assets rose in September to the highest level since late 2020 as oil prices averaged above $80 a barrel, boosting the kingdom's finances.
The stockpile stood at 1.68 trillion riyals ($447.9 billion), a rise of around 2.5% compared to August, according to a monthly central bank report Thursday. 
The kingdom's assets suffered a steep decline last year amid the pandemic and a slump in crude prices. Saudi officials also attributed a record cumulative drop of more than $47 billion in March and April 2020 to a $40 billion transfer from the central bank to the sovereign wealth fund. It was meant to support investments abroad, taking advantage of market turmoil during the height of the pandemic.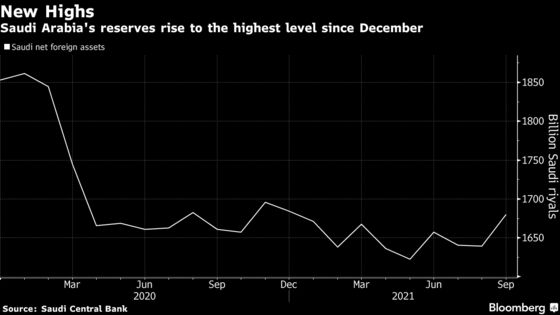 The government expects its budget shortfall in 2022 to be around 1.6% of economic output, according to preliminary forecasts. It sees revenue reaching 903 billion riyals, 4.5% higher than a forecast last year, helped by soaring oil prices.