Saudi Crown Prince Says He Loves Working With Trump
(Bloomberg) -- Saudi Crown Prince Mohammed bin Salman praised his relationship with President Donald Trump, days after the U.S. leader warned that the oil-rich kingdom's leadership might not last "two weeks" without American support.
"I love working with him," Prince Mohammed said in an interview at the royal palace in Riyadh on Wednesday. "You know, you have to accept that any friend will say good things and bad things."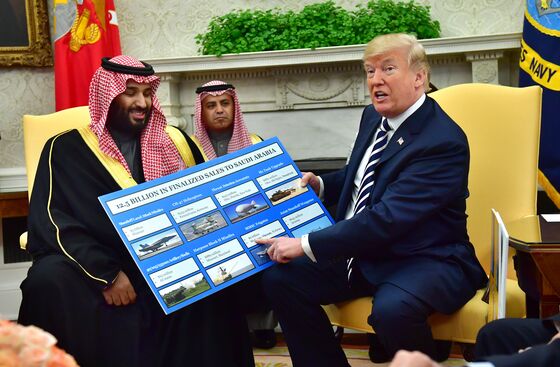 Trump has increased his verbal attacks on OPEC as global benchmark Brent crude oil has risen to a four-year high. At the United Nations last month, Trump said OPEC was "ripping off the rest of the world" with crude prices, now about $85 a barrel. He warned that "we are not going to put up with these horrible prices much longer."
Trump has heaped particular pressure on Saudi Arabia, the world's top exporter of crude, to do more to ease prices, by linking the American military presence in the Persian Gulf to the kingdom's oil-production policy.
"How about our military deals where we protect rich nations that we don't get reimbursed?" Trump told a campaign rally in Mississippi Tuesday. "I love the king, King Salman, but I said, 'King, we're protecting you. You have to pay for your military, you have to pay.'"
It's a theme he's been sounding for years, tweeting in March 2015 that if Saudi Arabia "wants our help and protection, they must pay dearly! NO FREEBIES." And it's not restricted to Saudi Arabia: In his speech to the UN General Assembly last month, the president said the U.S. expected "other countries to pay their fair share."
In his comments about King Salman bin Abdulaziz, Trump appeared to be referring to a telephone call a week ago between the two leaders. Saudi-owned Al Arabiya TV reported that the pair discussed efforts to maintain supplies to ensure the stability of the oil market and the growth of the global economy.
"We never in the history of Saudi Arabia decided that this is the right or wrong oil price," said Prince Mohammed, 33, in the interview. "The oil price depends on trade -– consumer and supplier -– and they decide the oil price based on trade and supply and demand. What we are committed to in Saudi Arabia is to make sure there is no shortage of supply."
The prince countered Trump's accusation that Saudi Arabia isn't paying for U.S. military support. "We believe that all the armaments we have from the United States of America are paid for, it's not free armament," he said. "So ever since the relationship started between Saudi Arabia and the United States of America, we've bought everything with money."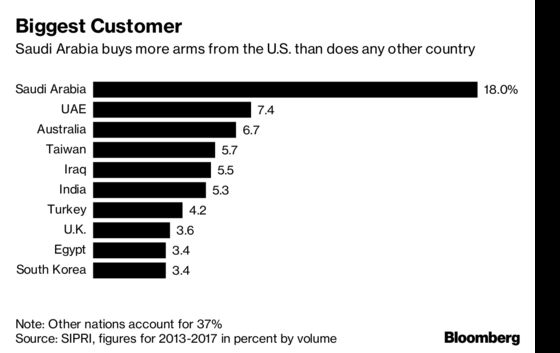 Trump and the crown prince met in Washington in March and lavished praise on one another, with Trump saying that the U.S.-Saudi relationship "is probably as good as it's really ever been." When Trump arrived in Riyadh in May 2017, jets flew overhead as King Salman met him at the airport.
Saudi Arabia and the U.S. are also united in their stance against Iran, and Saudi Arabia welcomed Trump's decision to withdraw from the international nuclear agreement with that country. At the same time, the relationship places pressure on the king to boost oil supplies. Saudi Arabia has increased crude production to a near-record level under the drumbeat of Trump's demands.
Although Saudi Arabia's ties with the U.S. have improved under Trump, the president's latest remarks were unusually harsh and appeared to question the stability of a monarchy in power since the 1930s.
Saudi Arabia has been less tolerant of other countries' criticism. The kingdom demanded an apology from Canada to end a dispute over human rights that's damaged business ties between the two countries. Saudi Arabia and Germany last month agreed to end a dispute sparked by German accusations of undue Saudi influence over Lebanon, after the German Foreign Ministry said it regretted the misunderstanding.
"Canada gave an order to Saudi Arabia on an internal issue," Prince Mohammed said. "It's not an opinion of Canada about Saudi Arabia as much as they are giving an order to a different country."
Prince Mohammed said Trump's latest criticism is different from the Canadian dispute.
"Trump is speaking to his own people inside the United States of America about an issue," the prince said. "If you look at the picture overall, you have 99 percent of good things and one bad issue."