Saudi Banks Seen as Gulf's Most Vulnerable in Oil-Price War
(Bloomberg) -- Saudi Arabian banks may pay the biggest price among their regional peers as the kingdom escalates an oil-price war.
Lenders in the world's largest oil exporter, already dealing with a fragile economy, now have to contend with plummeting crude prices -- which could lead to more problem loans -- and the fallout of the coronavirus that's closed the kingdom's schools and limited cross border movement. A surprise interest rate cut last week also means profit margins are under pressure.
"Sustained lower oil prices would undoubtedly impact the private sector and lead to a pick-up in delinquencies," said Chiro Ghosh, an analyst at investment bank SICO BSC in Bahrain. Saudi banks with a high share of corporate loans "are at greater risk" so will "focus more on mortgage loans to protect their margin."
While the full impact of oil's 43% drop this year are unclear, profits may come under pressure in the longer term if the kingdom reins in spending. Tighter domestic budget conditions could also result in less state deposits being parked with banks, reducing their ability to use that money for lending and increasing their cost of capital.
What Bloomberg Intelligence Says:

"Saudi banks are likely to be concerned about potential liquidity pressures as the kingdom can run a wider deficit. Their margins may prove to be more sensitive to rate cuts.

"The oil-price plunge and potential impact of the coronavirus on major events, such as Expo 2020 in the U.A.E and the pilgrimage season in the kingdom, could hurt their broader economies, ultimately slow banks' growth and affect asset quality."

-- Edmond Christou, a financials analyst with Bloomberg Intelligence
Citigroup Inc. analysts Rahul Bajaj and Ronit Ghose this week cut their earnings estimate for Saudi banks in 2021-22 by about 10% to reflect lower local interest rates and the failure of the OPEC+ agreement.
Read more from BI: Oil Slump, Virus, IFRS 9 Are Real Worries for Saudi Banks
Most are risk are those lenders that already have high loan-to-deposit ratios, with Banque Saudi Fransi, Alinma Bank, Riyad Bank and Bank AlBilad the most vulnerable, according to Bloomberg Intelligence.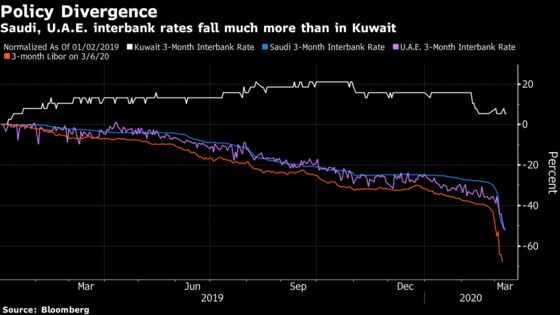 The kingdom's lenders aren't the only ones that face threats to their earnings. Arqaam Capital Ltd. also lowered its outlook for Gulf banks to take into account the reduction in U.S. interest rates and lower oil prices.
"The knock-on effects of lower economic growth and oil prices will further slow lending growth and increase the overall stock of problem assets" at Gulf banks, S&P Global Ratings said in a report on Wednesday. "At the same time, interest margins will decline. Combined, these shifts will weaken banks' profitability."
Read more from BI: Risks to Asset Quality Are Key Concerns for U.A.E. Banks
A drop in asset prices and increased risk aversion could also make it difficult for borrowers to access capital markets, S&P said. The hospitality industry, which includes sectors like airlines, hotels and retail, will experience lower revenue due to travel aversion and restrictions during the peak tourism season.
Read more: Arqaam Cuts Gulf Bank Outlook as It Cites 'Perfect Storm'
"The backdrop is tougher for the whole regional sector," said Hasnain Malik, head of equity strategy at Tellimer. "Generally the health of the banks in the Gulf Cooperation Council is a reflection of the sovereign. That implies most risk for Bahrain, Dubai and Oman."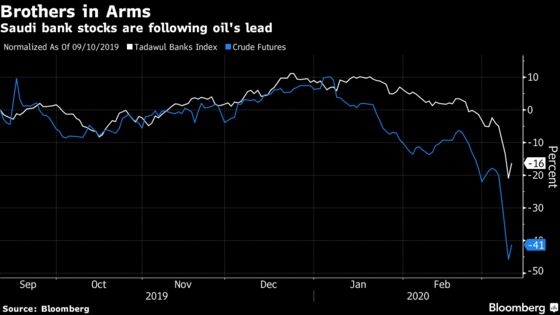 In the United Arab Emirates, the impact of the oil war and coronavirus adds to the pressure banks are already under as an ongoing property slump shows no signs of abating. The crisis is fanning non-performing loans and forcing banks to make higher provisions.
Dubai is also facing an impending debt wall, with the prospect of having to restructure a chunk of $23 billion in loans to government-related companies maturing at the end of 2021, according to Fitch Ratings Ltd.
"Worst positioned are the U.A.E. banks, in our view, on weaker macro backdrop, with increased pressure on the tourism, trade, and real estate sectors," said Sara Boutros, a senior analyst at CI Capital. "Most GCC banks can sustain operating amid an environment of lower oil prices, given their adequate capitalization and provisioning buffers, but this would definitely come at the expense of growth."