Saudi Aramco Open to Share Sales Abroad to Fuel Economic Plans
(Bloomberg) -- Saudi Arabia is planning to sell more stakes in state-owned oil producer Saudi Aramco as it looks to raise money to fuel an economic diversification plan, chairman Yasir Al-Rumayyan said.
The kingdom, which raised nearly $30 billion last year from Saudi Aramco's initial public offering in Riyadh, is planning to sell more of its stake in the world's biggest oil producer, Al-Rumayyan said in an interview with Carlyle Group Inc. co-founder David Rubenstein. Potential future share sales could be held outside Saudi Arabia, he said.
Any international offering of Aramco shares would face significant hurdles. Last year's IPO in Riyadh was already widely marketed to the world's largest investors, many of whom passed on the deal because other oil stocks offered better returns. Investors may also question Aramco's current valuation at a time when crude prices are slumping.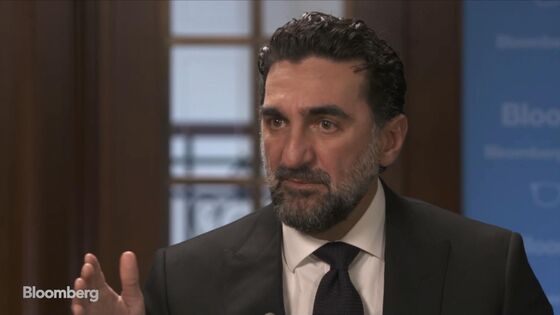 "If we have any good stock exchange that we think can bring some valuable investors to us, we will definitely consider it," said Al-Rumayyan, who is also governor of the Saudi sovereign wealth fund.
Saudi Aramco has already begun discussions with Wall Street banks to draw up scenarios for a second listing overseas, according to people with knowledge of the matter. It wants to be ready to move if Saudi Arabia's de-facto ruler, Crown Prince Mohammed Bin Salman, gives the go-ahead to proceed with the plans, said the people, who asked not to be identified because the information is private.
"We only offered 2% of the company, so there's still 98% of the company owned by the shareholder, which is the government of Saudi Arabia," Al-Rumayyan said. "Our program is to have a multiple number of listings over the years."
He spoke in an interview for "The David Rubenstein Show: Peer-to-Peer Conversations."
Al-Rumayyan is one of key figures in Prince Mohammed's plan to shift the Saudi economy away from a reliance on crude sales. Proceeds from Aramco share sales will be transferred to the Public Investment Fund, as the sovereign fund is known, and used for international deals and domestic diversification projects. In addition to his other responsibilities, Al-Rumayyan was appointed chairman of the IPO committee for Saudi Aramco last year to help push the deal forward, followed by becoming Aramco chairman in September.
"Things were not going as I thought it should be going," he said. "So I had a number of discussions with committee members, and said we have to do it this way, and I had the same discussions with the government and the Crown Prince, and after a while was appointed as chairman of that committee."
Al-Rumayyan is also looking at other ways to raise money from Aramco.
"We have a lot of assets that could be monetized because they are non-core assets, which can improve the performance of the company," he said, without giving further details.
Other oil and gas producers in the Middle East are also opening up their operations to outside investors to attract fresh capital and diversify their economies. Abu Dhabi National Oil Company has raised billions of dollars by bringing in partners for businesses including its refining unit and drilling business, and is currently in the process of selling a stake in its natural gas pipelines unit.