Saudi Arabia Unlikely to Exceed Borrowing Plan After Bumper Sale
(Bloomberg) -- Saudi Arabia may raise an additional $4 billion in international bonds this year, in line with its original plan, after the kingdom managed to reduce how much it pays to borrow in its latest debt sale, Finance Minister Mohammed Al-Jadaan said.
The country, which raised $5 billion from bond investors on Tuesday, is "unlikely to go for more than the equivalent of $9 billion" in new borrowing this year, Al Jadaan said in an interview with Bloomberg TV. Speaking at the World Economic Forum in Davos, Switzerland, he said the kingdom is considering issuing euros, riyals, and Islamic bonds later this year.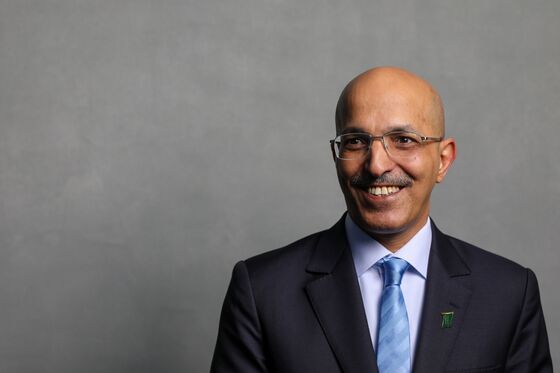 "We reduced pricing significantly compared to the last issuances," Al-Jadaan said. "Yesterday showed very clearly that demand for Saudi credit is very high and very healthy. We are very pleased not only with level of demand but also the pricing."
Saudi Arabia sold a three part bond, split between a $1.25 billion seven-year tranche at 85 basis points over U.S. Treasuries and a yield of 2.54%; a 12-year offering of $1 billion priced at a spread of 110 basis points and yield of 2.88%, and a $2.75 billion 35-year tranche, the kingdom's longest yet, yielding 3.84%.
Investors placed more than $23 billion of orders for the debt, according to the Finance Ministry.
The biggest Arab economy is taking advantage of a window of calm in the Middle East as tensions began to ease over the U.S. killing of a top Iranian general at the start of the year. Saudi Arabia's fixed-income assets fared better than much of the region in the aftermath of the Jan. 3 strike that brought the region to the brink of war.
While Saudi sovereign spreads spiked that day, they've since fallen back to 138 basis points over U.S. Treasures, according to JPMorgan Chase & Co. indexes.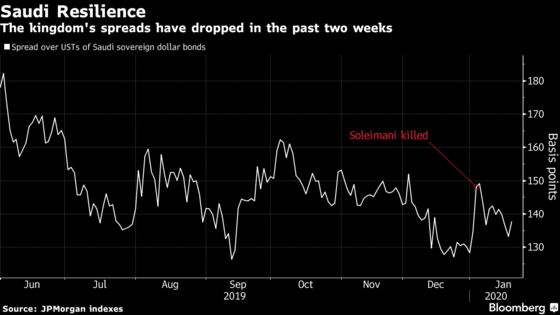 Saudi Arabia's budget deficit is set to expand to 187 billion riyals ($50 billion) this year. The kingdom is counting on the private sector to stimulate growth as it cuts spending. The non-oil economy grew at its fastest in about five years during the third quarter of 2019, but plans to cut government expenditure this year could challenge the kingdom's ability to sustain that pace.
While confident that private sector growth was picking up, the government would be prepared to boost spending if necessary, Al Jadaan said.
"We are prepared and are very dynamic, you have seen that in 2017," he said. "We are seeing leading indicators saying that private sector confidence is back."
Government spending in 2020 is set to fall about 3% to 1.02 trillion riyals. The government is hoping a modest drop in spending won't derail a recovery in non-oil growth, which reached an annual 4.3% in the third quarter of 2019.
The government has no plans to increase a levy on the dependents of expatriates in the country from the current level of 800 riyals a month, Al Jadaan said.