Saudi Arabia Won't Go On Spending Spree If Oil Income Rises
(Bloomberg) -- Saudi Arabia wants to send investors one message from its budget this year - regardless of the oil price spending won't change.
The budget sets out multiple scenarios for how the pandemic could hit its revenue forecasts, but says spending is fixed regardless. That's a marked contrast from previous years when oil booms led to wave of spending on new projects and expensive handouts to Saudi citizens.
The main budget forecast released on Sunday sees a surplus of 90 billion riyals ($24 billion), the first in eight years. In the past the kingdom, like its Gulf neighbors, raised spending in times of surging crude. But in four scenarios outlined in its budget statement late on Sunday, it kept projected spending at 955 billion riyals ($255 billion), regardless of income fluctuations.
"We haven't exited the pandemic completely," Finance Minister Mohammed Al Jadaan said during a press conference late Sunday. The kingdom envisaged "a very large group of different scenarios so we can be more prepared to face any international crises," he said, in a nod to how global uncertainty surrounding the pandemic has made economic predictions worldwide more challenging.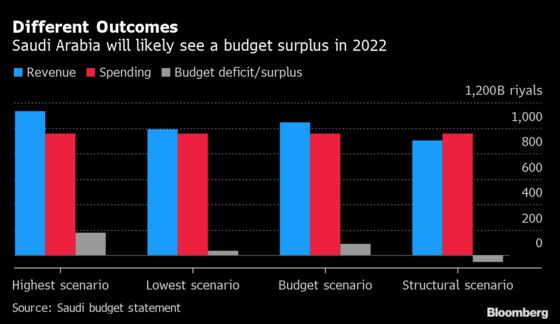 Three of the four scenarios in the Saudi budget statement predict the kingdom will have a fiscal balance surplus next year. There's a "structural scenario" which doesn't take into account fluctuations in global markets and outlooks with lower and higher revenues than the main budget prediction.
In recent years, Saudi Arabia and its Gulf peers have been more restrained in their spending. Saudi officials plan to cut spending for the next two years before increasing it slightly in 2024. 
But the picture is a bit more complicated than the budget scenarios show. Saudi Arabia has said cuts to government spending will be counteracted by the huge spending plans of the kingdom's sovereign Public Investment Fund (PIF), where it has shifted most capital expenditure on development.