Saudi Arabia's Holdings of U.S. Treasuries Drop to Four-Year Low
(Bloomberg) -- Saudi Arabia's hoard of U.S. Treasuries fell to the lowest level in about four years in October, even as the country's oil revenue surged. 
The kingdom sold around $8 billion in U.S. government debt, the most in over a year, bringing its stock to $116.5 billion, according to Treasury Department data. It was the biggest seller after Norway, which sold $16 billion in October, the latest month for which figures are available.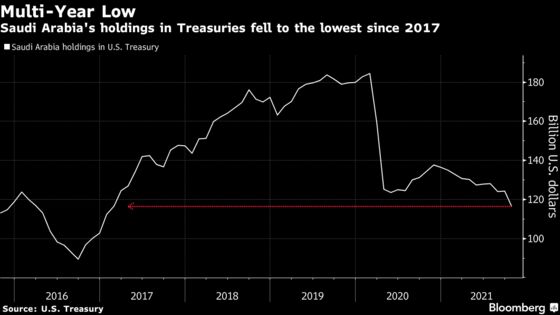 The drop in Treasury holdings coincided with a $15 billion fall in foreign assets held by the Saudi central bank, which manages the kingdom's reserves. It also came as crude prices averaged $78.52 a barrel in October, the highest monthly average in three years. Expectations of higher oil prices and production volumes have led the government to forecast it will report its first budget surplus in nearly a decade in 2022.
Saudi Arabia last made a big sell-off of U.S. debt in March and April last year, dumping nearly $60 billion of Treasuries in total. Those sales occurred around the same time the central bank transferred $40 billion to the kingdom's sovereign wealth fund to finance a flurry of stock investments during a slump in equity markets caused by the Covid-19 pandemic.
While Treasuries have been a significant destination for the Saudi Arabia's oil earnings in the past, the government is increasingly looking to get higher returns from its stock of savings.
U.S. bond yields have risen in 2021, signaling increasing concern from global investors. Federal Reserve Chair Jerome Powell said Wednesday the U.S. central bank is for now focused on broader financial conditions, maximum employment and price stability. 
The Fed's median forecast showed three hikes next year and in 2023. The yield on the U.S. 10-year bond has fallen to around 1.45%.