Santander Sees Brazil Poised for $30 Billion Equity Sale Bonanza
(Bloomberg) -- At least 30 initial public offerings are expected to raise about $15 billion over the next 18 months in Brazil, while secondary sales should amount to another $15 billion, according to Banco Santander Brasil SA.
"2019 is going to be a quite active year," said Santander Brasil's head of Equities Andre Rosenblit. Elections put a damper on share offerings this year and "basically, there were few transactions and those that occurred took place out of the country. This scenario has changed," Rosenblit said in an interview at the bank's Sao Paulo office.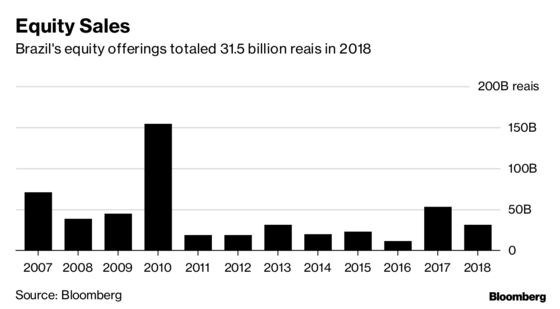 The outlook's shift for equity offerings in Latin America's largest economy has taken place amid investors' expectations that President-elect Jair Bolsonaro's administration will embrace a market-friendly agenda, aiming to privatize inefficient state-owned companies and pushing through fiscal measures to fix the country's rising public debt, especially an overhaul in Brazil's social security system.
Santander expects the deals to be concentrated in the first half of next year, where there could be around 10 IPOs. "Historically, the government has more flexibility, more bargaining power during the first six months. The market is preparing itself for the deals to take place mainly in the first quarter," Rosenblit said.
Equity sales by Brazilian companies year-to-date decreased 17.6 percent, to 31.5 billion reais, as a divisive presidential election kept companies from tapping local markets. The year's most successful deals, the initial public offerings by PagSeguro Digital Ltd and StoneCo Ltd, were listed in the U.S.
According to Rosenblit, the participation of local investors in the transactions tends to be a bit higher compared with the past, as local industry has been growing and some equity funds have raised a lot of money this year, amid a greater appetite for risk. "We expect good demand from local investors," he said.