After Orcel, Now Santander Makes a U-Turn on Scrip Dividends
(Bloomberg) -- First it was Andrea Orcel, now it's the all cash dividend: U-turns are becoming a habit for Banco Santander SA.
The Spanish bank wants to preserve the option to use a scrip dividend a year after saying it planned to start rewarding shareholders entirely in cash. That followed a shock reversal in January on the hiring of star investment banker Orcel as the lender's chief executive officer.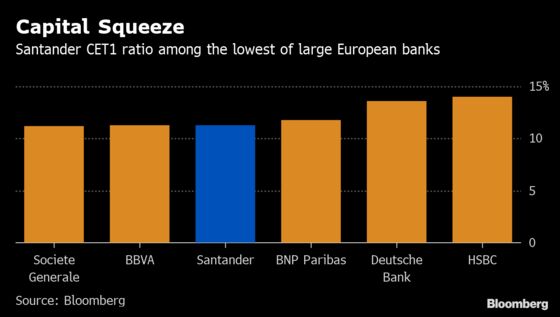 Spain's biggest bank said it would combine any such payout with share repurchases to avoid diluting the existing stock. The lender also decided to increase its medium-term dividend payout target to 40 percent to 50 percent of profit from a previous range of 30 percent to 40 percent.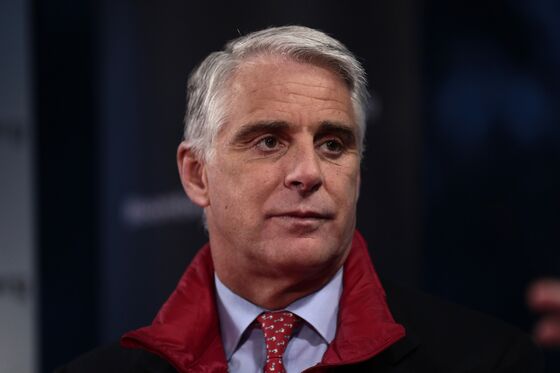 The shift is a sign that Santander is under pressure over its capital levels, said Carlos Garcia, an analyst at Kepler Cheuvreux in Madrid. The bank is gearing up for additional hits to its balance sheet this year, including accounting and regulatory changes. Garcia expects the 2019 payout to be in cash and the 2020 dividend to be in scrip, with the option to receive the dividend in cash or shares.
The board proposed keeping the option of a scrip dividend to give it "the required flexibility to be able to take advantage of the opportunities for profitable growth in our markets," according to a filing late on Tuesday.
Santander fell as much as 2.2 percent in Madrid trading before recouping most of its losses to trade down 0.2 percent as of 3:57 p.m. The stock has declined about 27 percent in the last 12 months compared with a 23 percent drop by the Bloomberg Europe 500 Banks index.
Santander has one of the lowest core capital levels among its peers, but Chairman Ana Botin has said that's appropriate for a bank focused on lending rather than the more volatile business of investment banking. Botin said in March last year that the bank wanted to move to a system of twice-yearly cash dividends from 2019. Previously the bank made four payments, of which three were in cash and one in shares or cash.
As recently as January the bank had said that it planned no further changes to its dividend policy.
"We are at the moment not changing what we already announced, which is a full cash dividend in 2019, no scrip," Botin said in an earnings call on Jan. 30, adding that she expected the payout to remain at 30 percent to 40 percent. "We're very comfortable with that dividend policy. I don't want to say in advance what we're going to say in April, but you shouldn't expect much change from that."
Santander said its fully-loaded CET1 ratio was 11.3 percent in December 2018. The average for Europe was 13.4 percent in the fourth quarter of 2018, according to Bloomberg data.
Santander last month announced that it was reversing course on appointing Orcel, who led UBS Group AG's investment bank until September, as its next chief executive officer after a standoff over tens of millions of dollars in deferred pay.
Dividend payments have been a topic of contention between Santander and its shareholders since Botin took the helm of the bank in September 2014 following the death of her father, Emilio. She immediately scrapped a policy that had been in place since 2007, cutting the payout to 20 cents from 60 cents and drawing the ire of retail investors, who hold about 40 percent of the bank's shares. The payout has risen slowly since then to 23 cents per share.
More recently, Santander rattled holders of the 1.5 billion euros ($1.7 billion) of the bank's perpetual contingent-convertible bonds by deciding to skip an option to call them, sending the bond market tumbling. The announcement came late on Feb. 12, right at the deadline for a decision, after the bank kept investors in the dark for weeks regarding the call option.
The low interest rate environment in Europe has also forced Santander to change its policy on interest for its 1|2|3 current accounts. Last year, for its Spanish customers it lowered the balance applicable for a 3 percent interest rate to 1,000 euros from 6,000 euros.
Using a scrip dividend will allow Santander to conserve about 8 basis points in capital per year, Citigroup Inc. analysts Stefan Nedialkov and Anand Demble wrote in a report.
"We view the announcement as prudent yet it is unlikely to help sentiment on the stock," they said.