Santander Turns to Latin America as European Businesses Slip
Banco Santander SA relied on its increasing commitment to fast-growing Latin American markets to make up for sluggish European units that weighed on first-quarter profit.
Net income fell 10 percent, hit by a charge of 108 million euros ($121 million) for restructuring in the U.K. and Poland as well as an inflation-adjustment expense in Argentina. That slightly beat analyst estimates. The Americas, including the U.S., contributed 52 percent of underlying profit, the most since 2013.
The shift toward the Americas is likely to continue, with Santander announcing earlier this month that it will boost investment in Latin American businesses to offset a weak economy in Europe. Among its targets is Mexico, where it plans to buy back the remainder of its unit in the country.
The bank also said it will increase investment in its Latin America business to 30 percent of risk weighted assets from 27 percent, reflecting the diverging fortunes of its global divisions.
"We're going to see that tendency increasing for a while," said Nicolas Lopez, an analyst at M&G Valores in Madrid.
Growing in Latin America doesn't come without risks. Brazil's real is the second-worst performer in a basket of major currencies tracked by Bloomberg, falling 4.2 percent against the euro over the last 12 months. In Argentina, Santander's profit fell 84 percent excluding the sale of a stake in payments company Prisma Medios de Pago.
The bank is seeing strong interest in a planned capital increase to pay for the Mexico acquisition, but Santander doesn't currently have plans to buy out the rest of its stake in its Brazilian unit or elsewhere in Latin America, CFO Jose Garcia Cantera said in a Bloomberg TV interview.
With relief from negative interest rates postponed yet again, the focus in Europe is on finding ways to reduce spending. Earlier this month, Santander pledged to cut 1.2 billion euros ($1.4 billion) of annual costs, the bulk of which are concentrated in its European business.
Santander fell 1.4 percent to 4.46 euros in Madrid trading as of 12:01 p.m. The shares have gained price has risen 12 percent this year.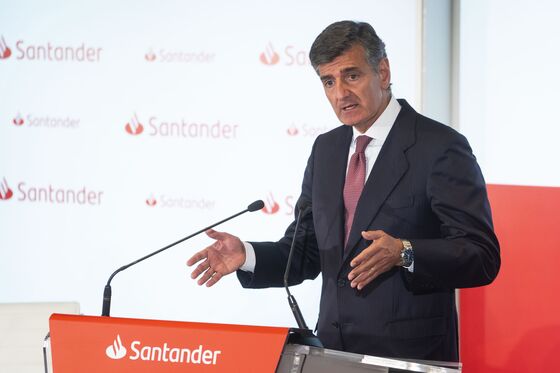 Garcia Cantera also said Santander has no interest in bidding for Commerzbank AG after its merger talks with Deutsche Bank AG failed. "Europe needs further progress on banking union. So that's something we're not contemplating at all a the moment."
At Spanish competitor Banco Bilbao Vizcaya Argentaria SA, the fortunes abroad were mixed, with solid growth in Mexico compensating for disappointing growth in Turkey, Spain and the U.S. The bank's net income fell 13 percent to 1.16 billion euros, missing the analyst consensus of 1.17 billion euros.
BBVA's profit in Turkey fell 29 percent, hit by a 202 million euro impairment on financial assets amid an economically volatile environment. The bank also suffered in the U.S. where a push into consumer lending meant the bank had to make a provision of 162 million euros.
Lower net-interest and trading income and higher provisions pulled profits in Spain down by 15 percent.
CaixaBank SA's first quarter profit fell 24 percent to 533 million euros. The bank attributed the decline to the loss of earnings from the sale of its stake in Repsol SA, as well as the reclassifying of its investments in BFA and the repricing of Viacer last year.
Here are some highlights from Santander's first-quarter report:
Net income fell 10 percent year-on-year to 1.84 billion euros, beating the analyst consensus of 1.83 billion euros.
The U.S. was among the most profitable units. Earnings of 182 million euros, an increase of 46 percent, allowed the subsidiary to leapfrog Chile and Portugal to become the group's sixth biggest contributor
Mexico also stood out. Profit rose 18 percent, boosted by net interest and fee income
The U.K. continues to be a drag on group earnings. Uncertainty around Brexit and restructuring costs meant profit fell 36 percent to 205 million euros
The bank's fully-loaded CET1 ratio was 11.25 percent, slightly better than the 11.2 percent Chairman Ana Botin had announced at the bank's AGM on April 12
Net interest income of 8.68 billion in the first quarter missed the consensus of 8.75 billion euros
Pretax profit rose 3 percent excluding currency effects to 3.68 billion euros