Samsonite Tumbles After Short Seller Questions Accounting
(Bloomberg) -- Samsonite International SA, the world's largest branded-luggage maker, tumbled the most since 2012 after short-seller Blue Orca Capital questioned the company's accounting and corporate governance.
Samsonite concealed slowing growth with debt-funded acquisitions and inflated profit margins with dubious accounting linked to its takeovers, Blue Orca, founded by former Glaucus Research Group research director Soren Aandahl, alleged in a report on Thursday.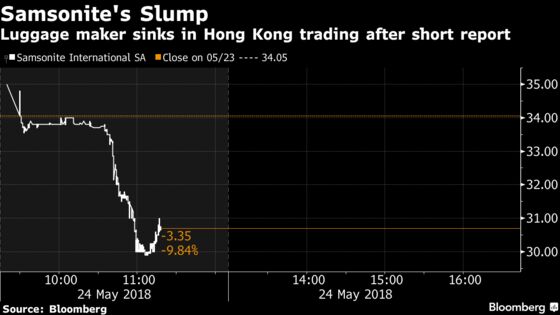 The company's Hong Kong-listed shares slumped 9.8 percent to HK$30.70 before trading was halted at 11:18 a.m. local time, wiping out the equivalent of $607 million in market value. Euro-denominated bonds issued by a Samsonite unit also tumbled.
"The company is of the view that the allegations in the report are one-sided and misleading, and accordingly, the conclusions drawn in the report are incorrect," Mansfield, Massachusetts-based Samsonite said in a statement. The company said it plans to resume trading Friday.
The short-seller's allegations center on a Samsonite growth strategy that has mostly been applauded by investors and sell-side analysts in recent years. The luggage maker's acquisitions, which include rival Tumi Holdings Inc. and online retailer eBags Inc., helped boost Samsonite's net sales to a record in 2017 and lifted the stock to a 16 percent gain in the 12 months before today's slump. The average share-price target compiled by Bloomberg on Thursday implied a 26 percent advance over the next year.
Blue Orca's price target on the stock suggests a 43 percent drop from current levels, a call that's much more pessimistic than even the most bearish sell-side estimate. Among other allegations Blue Orca cited for its outlook: questionable related-party transactions between Samsonite and Indian entities controlled by Chief Executive Officer Ramesh Tainwala and his family, and a revolving door of auditors at the luggage maker's South Asia unit.
Catherine Lim, a Bloomberg Intelligence analyst in Singapore, said Samsonite's revenue from India and the Association of Southeast Asian Nations accounted for less than 10 percent of the company's global sales and profit last year. She also noted that corporate disclosures are generally less transparent in Asian emerging markets and that related-party transactions aren't uncommon.
"Samsonite has to date delivered on its articulated strategy since its public listing in 2011 of fueling growth via acquisitions in my view," Lim said.
The Samsonite report ends a lengthy period of quiet from activist short sellers in Hong Kong, where a broad market rally has caused many bearish wagers to backfire. Fullshare Holdings Ltd., Aandahl's last Hong Kong-listed target, has advanced 36 percent since he said (via a Glaucus report) in April 2017 that the stock was "poised to crash." Shortly thereafter, Fullshare denied Aandahl's allegations and won a show of support from state-owned China Citic Bank Corp. in the form of a $1.45 billion credit line.
Still, Aandahl has notched several big wins at Glaucus in recent years. His successful targets in Asia include Hong Kong-listed Tech Pro Technology Development Ltd., which tumbled 86 percent in a single day after a Glaucus report in July 2016, and Blue Sky Alternative Investments Ltd., an Australian asset manager that has dropped 77 percent since Glaucus targeted the company in March.
Aandahl announced the founding of Blue Orca this month after parting ways with Glaucus co-founder Matt Wiechert.