EU Takes First Step Toward Fining Italy on Budget: Italy Update
(Bloomberg) -- The European Union took a first step toward imposing fines on Italy after decreeing that the populist government's spending drive violates the bloc's fiscal rules. In the meantime, Deputy Prime Minister Matteo Salvini told reporters he was open to small tweaks in the budget while reassuring voters that he wouldn't compromise on the main principles.
We are following developments in real time. Time stamps are for Brussels and Rome.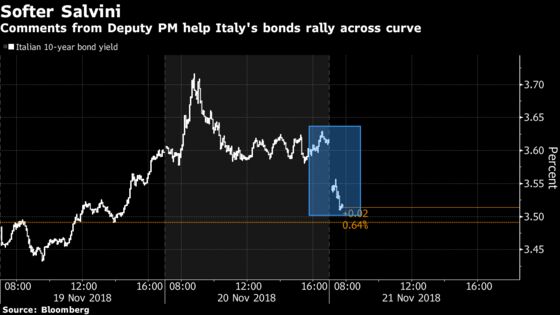 EU says excessive deficit procedure warranted (12:23 p.m.)
"The Commission confirms the existence of a particularly serious case of non-compliance," the EU said in its annual review of euro-area nations' spending plans referring to Italy's 2019 budget. "With what the Italian government has put on the table, we see a risk of the country sleepwalking into instability," Commission Vice President Valdis Dombrovskis said.
Under EU fiscal rules, the bloc's members need to keep their deficit below 3 percent of GDP and their debt below 60% of GDP. Countries with debt that exceeds that level need to be reducing it at a satisfactory pace. At 132 percent of output, Italy's debt is more than twice the EU limit, and, according to the commission, it is not falling fast enough.
The move by the commission has been widely anticipated given the Italian government's reluctance to make any concessions to its expansionary budget. Still, it marks an important step for officials in Brussels, who had been hoping over the past months that market pressure could force Italy to climb down from its controversial plans preventing further confrontation.
EU said to see budget at risk of non-compliance (12:09 p.m.)
The European Commission is said to have written in its annual review of euro-area nations' spending plans that the country's expansionary 2019 budget is breaching debt reduction commitments and is at serious risk of non-compliance.
EU issues first of a series of expected slapdowns (11:57 a.m.)
Out of Brussels, the Italian news service Ansa reported early that Italy's debt criteria is not compliant with EU rules and that it was justified to put Italy in the EU's disciplining process.
Ready to talk to everyone (11:38 a.m.)
Salvini said that he won't compromise on the budget plan's core items like pension reform, citizens' income, and lower taxes. He told reporters in Rome that he is, however, willing to make tweaks on issues like investments and on that topic is "open to dialogue with everyone."
How the market is trading off Italian headlines (10:51 a.m.)
"So clearly we haven't heard any concrete decisions from the government so far- all BTPs are trading is headlines right now," said Pooja Kumra, European rates strategist at Toronto-Dominion Bank in London. "Markets are still awaiting EC decision today. Clearly if the government does not revise its budget it will be placed on EDP at some point before year-end. The question is today or in the next 2 weeks ahead of European council meeting"
Many countries have undergone excessive deficit procedures (EDP) before -- including France. Spain and Portugal received symbolic "zero" sanctions. They weren't fined but they went through the whole process that Italy hasn't even started going through at this stage. If-- and it's a big if -- Italy ends up receiving fines, it would be the first euro-area country to do so.
Market battles could hurt growth, Istat warns (10:48 a.m.)
Italy's economy will suffer if tensions with the European Union and investors push up borrowing costs for companies and households, the nation's statistics office said on Wednesday.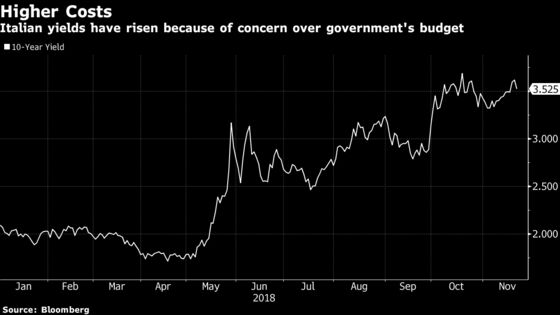 League denies Salvini open to revising budget (10:34 a.m.)
Salvini is not open to lowering spending on key reforms in the 2019 budget, according to an official of his League party who declined to be named. The official said the League denies media scenarios on Salvini ready to change measures in budget including lower retirement age and welfare benefits.
Italian bonds pared their gains after the League party denied that Salvini is open to revising the budget. Yields on ten-year securities were down seven basis points to 3.55 percent, having been as low as 3.50 percent this morning.
Commission getting ready act against Italy (10:30 a.m.)
At around noon, the EU's executive arm is expected to adopt a report on Italy's debt saying it is in breach of EU rules. The report, which has to be endorsed by euro-area governments, paves the way for opening a disciplining process that would give the government in Rome three to six months to take action towards reducing its huge debt load or face fines.
The report is only the first step in a long, convoluted process, which requires EU governments to weigh in several times. EU finance ministers will likely formally open the excessive deficit procedure in January and give Italy six months to take action, officials say. This means any decisions on fines are unlikely likely to come up -if at all - before the summer.
Bond traders liked what they read this morning (10:11 a.m.)
Italy's 10-year bond yields fell 12 basis points to 3.50 percent, having touched 3.72 percent Tuesday, the highest level since Oct. 19. The spread over those on their German peers narrowed to 313 basis points.
"If the comments from Salvini are true and some sort of compromise is found, sanctions may even be avoided, which would make it likely indeed that the BTP-bund spread retightens back to the 250-275 area," said Martin van Vliet, senior interest-rate strategist at ING Groep NV.
The euro extended an advance to gain 0.3 percent to $1.1400, as its correlation with Italian bond moves increased. Italy's FTSE MIB Index rose 1 percent, snapping five days of losses.
If the EU follows through with sanctions, it could levy fines of 0.2 percent of Italy's gross domestic product, which could increase to 0.5 percent if the government in Rome doesn't amend its budget.
What the papers said (8:06 a.m.)
La Stampa, unsourced, says Salvini has flagged his readiness to "lower the exposure of debt" which the paper says means only one thing: reduce the billions destined to the citizen's income and to lowering the retirement age. Paper adds this means de facto tightening pool of beneficiaries. Paper says this leaves deputy Prime Minister Luigi Di Maio from Five Star alone in full opposition to Brussels.
Messaggero says in its headline that League is open to possible budget changes, but all the newspaper said in the body of story was that Salvini is more concerned than Di Maio about conflict with Brussels. The two men were political rivals before joining forces to form an unlikely government coalition that has been defiant on European budget rules.