Safest Stocks Are Booming and Ringing Alarm Bells on Wall Street
(Bloomberg) -- In the world of the quants, there can always be too much of a good thing.
This time, it's the relentless rally in companies with healthy fundamentals from low debt to high profitability -- dubbed quality stocks -- driven by investor appetite for defensive assets across the U.S. and Europe.
The investing style has boomed this year during bouts of risk aversion spurred by Italy's fiscal tremors and tighter monetary policy to late-cycle angst.
Now, this corner of the quantitative kingdom no longer provides refuge because it's become crowded and pricey, according to Sanford C Bernstein & Co.
"Quality factors are well bid so may not be as defensive as people expect," strategists led by Inigo Fraser Jenkins wrote in a Monday note.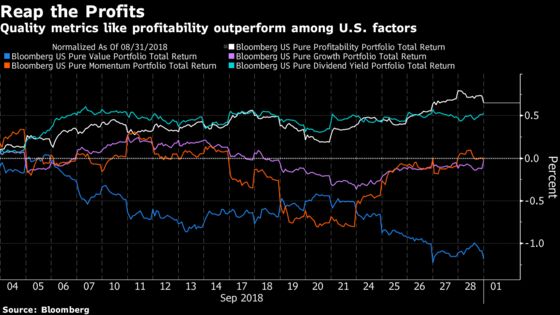 In Europe, buying the most profitable equities and shorting the least returned 2 percent in September, compared to a 0.2 percent gain for the Stoxx Europe 600 Index. In the U.S., a market-neutral version of the strategy posted its best month since May 2017, trading at its highest price in more than two years.
Exchange-traded funds tracking the investing style are also packing a bigger punch.
The iShares Edge MSCI USA Quality Factor ETF absorbed $456 million, the biggest monthly pull since listing in 2013. European-listed vehicles saw $196 million, the most since the inception of the major quality funds in 2014.
For Nomura's Masanari Takada, it's a wake-up call. Rising demand for defensive assets is now casting a shadow over the post-crisis bull run in developed-market stocks.
"The quality factor has been outperforming the value factor since the end of September," Takada wrote in a Monday note. "Most equity participants are now shifting their stances to 'reality check' mode."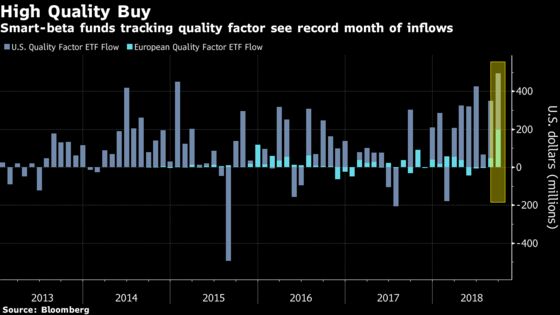 The hunt for top-notch balance sheets is likely to intensify.
Take the Russell 2000. One-fourth of the index is now posting negative earnings -- a level that typically occurs on the eve or during recessions, according to Bank of America Corp. Among mid-caps, leverage levels are nearing all-time highs, the data show.
Bernstein strategists, for their part, are telling money managers to adopt a defensive stance, citing a slowing business cycle that typically helps reliable firms to outperform.
But rather than buying shares that hit all of the quality metrics, they suggest targeting individual attributes that are still reasonably priced, such as low leverage.
"We expect quality will continue to be a rewarded attribute," Bank of America equity strategists, including Jill Carey Hall, wrote in a Friday note. "As is typically the case later in the cycle, and where high quality stocks have been re-rating vs. low quality stocks after decades of fiscal and monetary stimulus buoying valuations for the latter."