Oman Would Get Gulf Bailout in Liquidity Crunch, S&P Says
S&P Global Ratings said members of the Gulf Cooperation Council would likely come to Oman's rescue if the sultanate experiences "significant external liquidity pressures," especially in a situation that threatens its currency peg to the dollar.
"In the event Oman's external reserves deteriorate significantly, we expect that financial support from neighboring GCC countries would be forthcoming," S&P analysts including Zahabia Gupta said in a report Monday. "If one country's peg were to fall, the contagion effects could be severe for the rest of the GCC."
S&P's baseline scenario is that the government will meet its funding needs -- totaling almost $50 billion over 2020-2023 -- through debt issuance abroad and at home, drawdowns of domestic and external liquid assets, and other financial transactions
Oman's fiscal deficit estimated at 17.5% of gross domestic product this year, up from 9.7% in 2019
The economy is projected to shrink 4% in 2020 before accelerating next year
If market access doesn't improve for the rest of the year, the government is expected to use the Petroleum Reserve Fund to repay its $1.2 billion of external debt redemptions
As a slump in oil prices and the coronavirus pandemic weigh on the country's finances, S&P warned that Oman's depletion of external assets could accelerate should the cost of borrowing abroad be "prohibitive" or if foreign investors decline to roll over maturing debt.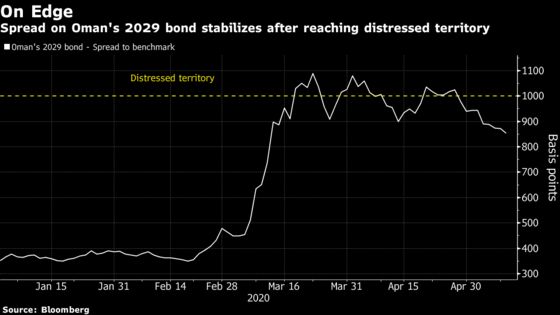 In case it opts to seek external assistance, a package from the International Monetary Fund could be another possibility, although S&P said its understanding is that "the government is currently not exploring this option."
"Support for Oman could come in the form of deposits in the central bank to shore up reserves and support the peg or a loan package similar to that received by Bahrain, possibly with fiscal and foreign policy conditionality," S&P said.
Read: Latecomers to Gulf Stimulus Game Scrounge Up Cash, Bypass Budget
Oman and Bahrain are the most vulnerable among the six countries of the GCC, because of their precarious public finances and strained reserves. Oman is especially exposed given that, unlike Bahrain, it doesn't have a backstop credit line from its regional allies.