S&P 500's Allure Boosted by Biggest Tilt to Safety in a Century
(Bloomberg) -- The America First trade has proved hard to beat in global markets as everything from better earnings to share buybacks have increased the attractiveness of U.S. stocks.
But one little-noticed fact is that, by one measure, the S&P 500's ability to shelter investors from economic turmoil is now the strongest in at least a century.
High-dividend payers such as utilities and companies in industries like technology with sales seen as resilient to a slowing economy now make up more than 70% of the index's weighting. That's the highest proportion since the 1920s, according to data compiled by Cornerstone Macro LLC.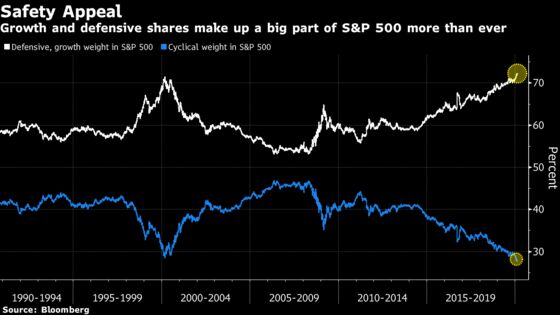 American stocks are usually perceived as safer than the rest of world partly because the market's sheer size and deep liquidity make them less vulnerable to shocks. Cornerstone's data on the S&P 500's style evolution add more evidence to the safety case while highlighting the allure of the market at a time when growth and defensive shares are all the rage. The S&P 500 has been a standout as concern about the spread of the deadly coronavirus roiled global markets.
U.S. equities were little changed after erasing earlier loss Thursday, with utilities and consumer staples leading the market higher. Up almost 5% in February, the S&P 500 is poised to beat the MSCI World ex-U.S. index for a second month in a row. That extends a stretch of supremacy where American shares outperformed in all but two years since 2008.
Growth and defensive companies represent a relatively smaller part of international stocks. Using Cornerstone's method of grouping, they represent about half of the MSCI World ex-U.S. Index, data compiled by Bloomberg showed.