S&P 500 Futures to Trade Overnight Ahead of NYSE Wednesday Close
(Bloomberg) -- Futures on U.S. equities will trade overnight Tuesday in a truncated session before the New York Stock Exchange closes Wednesday for a national day of mourning for the funeral of George H.W. Bush.
The Wednesday futures session will begin as usual at 6 p.m. Tuesday in New York, and go until 9:30 a.m. the following day, according to a statement by CME Group, the world's largest derivatives exchange. Futures trading will resume at 6 p.m., as regularly scheduled.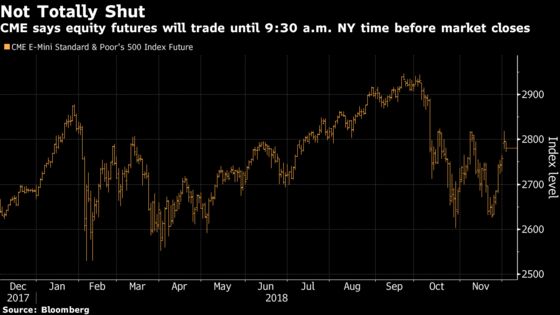 Volume is likely to be light, but for a market whose volatility has spiked lately on headlines surrounding global trade and monetary policy, the shortened morning opening is a venue for investors to express views.
The S&P 500 fell 0.6 percent as of 10:30 a.m. in New York as optimism over a U.S.-China trade truce faded. The index rallied more than 6 percent over the previous six days as traders cheered a perceived soft tone toward interest rates by Chairman Jerome Powell and easing trade tensions.