S&P 500 Firms Are Sidestepping 'Great Resignation' Debate
(Bloomberg) -- Laden with giant companies, the S&P 500 may end up being a haven from wage pressures that have begun to sow anxiety among investors, research shows.
Dennis DeBusschere, founder of 22V Research, analyzed the quit rate among American firms and found that large corporations have yet to face the same squeeze from labor shortages as their smaller peers.  
While the U.S. quits rate, or the number of quits in the month as a percent of total employment, increased to a record, a deeper look shows employees are quitting small businesses at a much faster rate, the strategist said, citing the Labor Department's Job Openings and Labor Turnover Survey, or JOLTS. At locations with greater than 5,000 employees, the quit rate has been stable. And almost all the S&P 500 members have more than 5,000 employees.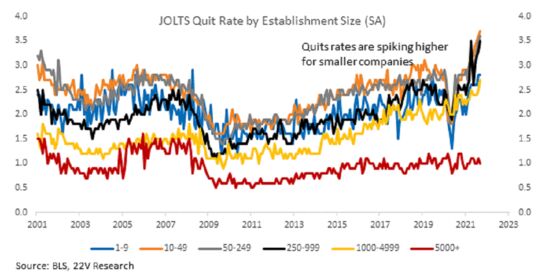 "Turnover-induced wage inflation may put upward pressure on smaller employer costs," DeBusschere wrote in a note to clients. "But there is scant evidence it is yet a problem for large-caps."
It's another example of why the market isn't the economy. While the "Great Resignation" has led to a labor shortage across industries from restaurants and factories, for now at least, it's no trouble for S&P 500 companies. In fact, large-caps stand to benefit from a spending boom by Americans as a result of higher income. 
S&P 500 profits surged more than 40% in the third quarter after increases in revenue, setting the benchmark index up for its seventh straight quarterly gain in the longest stretch of wins since 2017.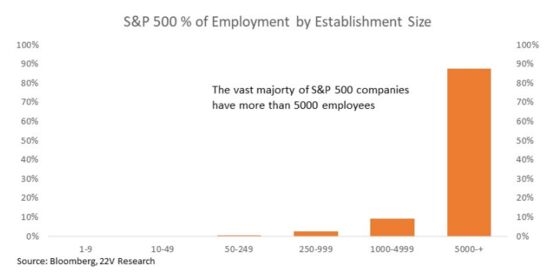 One caveat to note is that the JOLTS data are based on establishment, a physical work location such as a factory or a store, and big firms can have a lot of small establishments. 
"Traditionally lower-paid occupations are where the shortages are the most intense. Firms that hire those workers can be either big or small," said Michael Feroli, chief U.S. economist at JPMorgan Chase & Co. Whether wage pressures become an issue "depends more on what the firm does than how big it is."
Labor costs have become a factor differentiating winners and losers in the stock market. A Goldman Sachs Group Inc. basket of S&P 500 stocks with the highest labor costs -- which strips out any industry bias -- is trailing low-cost counterparts by almost 4 percentage points this quarter.
"A persistent wage price spiral would lead to longer term headwinds to growth and could cause a shift toward restrictive central bank policy," DeBusschere said. "But over the next few quarters, large-cap earnings look relatively insulated from labor pressures." 
Helping shelter companies from wage shocks are technology innovations that have spurred a shift in businesses' focus away from labor. According to data compiled by Bank of America Corp., the S&P 500 is 70% less labor intensive than in the 1980s. Thirty-five years ago, it took roughly eight workers to generate $1 million of sales. Now, it's done with only two employees.