South Africa's Stocks Edge Lower as Sanlam, Aspen Slide After Results
(Bloomberg) -- South Africa's main stock index erases earlier losses to climb 0.6% as of 1:28 p.m. in Johannesburg with market giants Naspers Ltd. and Richemont rising, and as banks extend rally to a fifth day, the longest winning streak since April.
"There has been a concerted efforts to buy South Africa Inc. shares over the last few days and the market has seen an increase in volumes across the board, from consumer stocks to banks and retailers," says Ryan Woods, head of trading at Independent Securities.
Benchmark index extends gains to a fourth day. Wednesday's 1.4% advance in South African stocks was accompanied by a return to buying by foreign investors, who ended eight days of outflows, according to bourse operator JSE Ltd.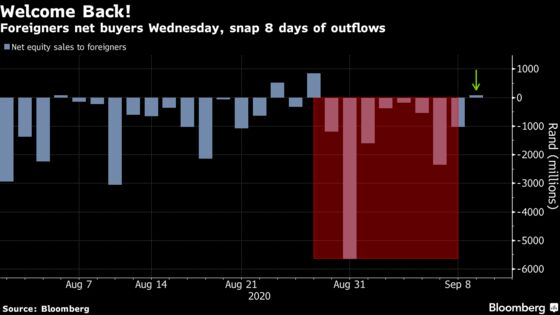 Naspers gains 2.2%, the biggest jump in more than a week, as a rebound in tech stocks boosts partly owned Tencent Holdings Ltd. in Hong Kong.
Standard Bank Group Ltd. leads index of bank stocks higher, climbing 3.7%. Sector benchmark gains 2.5%, shaking off a weaker rand. Absa Group Ltd. +4.2%, Nedbank Group Ltd. +3.4%, Capitec Bank Holdings Ltd. +1.9%. FirstRand Ltd. trails peers, rising 1.2% as bank says earnings will face "acute pressure" for the rest of 2020.
NOTE: Rand Weakens as South Africa Current Account Swings to Deficit
Sasol Ltd. rises for the first day in three, climbs 3% after company says Air Liquide will buy its air separation unit for $510 million, as part of the company's expanded and accelerated divestment program.
Woolworths Holdings Ltd. supports gains in index of general retailers, which is up 2.4%, rising for a fourth session
Woolworths +4.7%, Foschini Group Ltd. +3%, Mr Price Group Ltd. +1.8%, Truworths International Ltd. +2%, Pepkor Holdings Ltd. 2.7%, Motus Holdings Ltd. +2.7%.
"There has been a lot of cash sitting on the side lines in South African markets, and valuations have gotten compelling enough for investors to come back in," Woods says. Sentiment has been boosted by rumours around the country moving to level 1 Covid-19 lockdown restrictions next week, he says.
Super Group Ltd. rises 6.3%, lifting transport index. Among peers, Imperial Logistics Ltd. +2.8%, Textainer Groups Holdings Ltd. +0.3%
"Investors are saying that the second-quarter numbers are the bottom, and that we have seen the worst, and as things reopen, things will start moving again," according to Woods.
S. Africa Posts Wider-Than-Expected Current-Account Deficit
South Africa Readying Economic Reboot Plan, Ramaphosa Says