Russian Stock Offerings Have Best Start to Year Since 2013
(Bloomberg) -- Russian stock offerings are off to the busiest start of a year since before the annexation of Crimea, with consumer-focused companies leading the way as the economy recovers from the pandemic.
A fresh round of U.S. sanctions -- and the threat of more to come -- hasn't closed the pipeline, with $3.7 billion raised in equity capital markets so far this year, according to Dealogic data. Compared with previous first-half tallies, that's the most since 2013.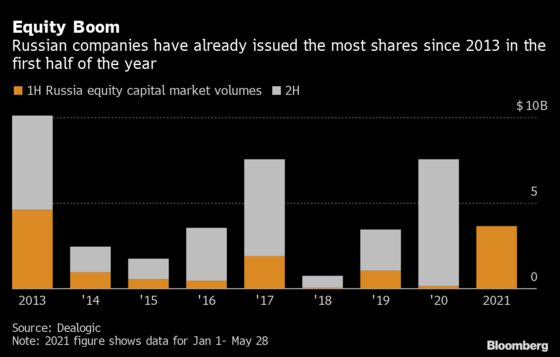 The range of Russian companies that have listed, or plan to do so -- from a dollar-store chain, to an IT company and a healthcare provider for the wealthy -- marks a break with the past when commodity producers dominated, according to Alina Sychova, head of capital markets at Sova Capital.
Investors are chasing pandemic winners that are "consumer- and domestic consumption-oriented, with good brand recognition," she said.
Discount retailer Fix Price Group Ltd. raised $1.7 billion in March, the biggest listing from a Russian company in more than a decade. In the same month, Billionaire Mikhail Gutseriev's Safmar Group, netted 17.6 billion rubles ($240 million) from offering a part of its stake in Russia's biggest consumer electronics retailer.
Russian IT provider Softline is weighing an initial public offering to expand outside Russia, while the European Medical Centre is reportedly mulling a share sale as soon as this summer. The St. Petersburg Exchange has picked Goldman Sachs Group Inc. for a possible IPO this autumn, according to Kommersant.
While Russia avoided the long lockdowns of some countries, the Covid-19 outbreak stoked appetite for discount stores and online services. Gross domestic product will return to pre-pandemic levels as early as the second half of the year, Bank of Russia Governor Elvira Nabiullina said last month.
Alex Metherell, co-head of global banking at VTB Capital, is still betting share sales will meet or exceed his forecast of $10 billion this year.
"Continued confidence in markets will likely result in several IPOs, not just throughout this year but also in 2022," he said.
Not all offerings have gone as planned.
GV Gold put a deal on hold in March after the market weakened, while Fix Price's shares have dropped 12% since it floated, compared with a 9% gain for the benchmark stock index in the period.
Konstantin Asaturov, a portfolio manager at Sistema Capital in Moscow, said investors want to see more analyst coverage of the stock as well as guidance from management before buying in. Fix Price looks attractive, however, "if we talk about the long-term horizon," he said.