Russia Formally Charges Jailed U.S. Investor Calvey With Fraud
(Bloomberg) -- Russia's Investigative Committee formally charged U.S. private equity investor Michael Calvey with fraud following his arrest in Moscow last week, his lawyer said on Thursday.
The Baring Vostok Capital Partners founder is accused of embezzling 2.5 billion rubles ($38 million) from a retail bank, crime punishable by up to 10 years in prison under the Russian criminal code. Calvey will plead not guilty and declined to give evidence to investigators pending further legal consultation, his lawyer, Dmitry Kletochkin, said.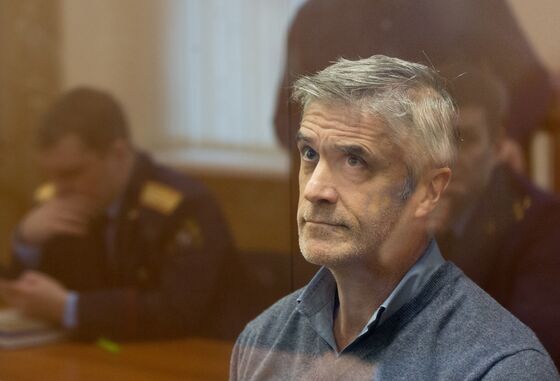 The charge against one of Russia's longest-standing foreign investors comes less than 24 hours after President Vladimir Putin hit out at pressure by law enforcement on entrepreneurs, saying that business people shouldn't have to live under "constant fear of criminal prosecution."
Calvey's arrest has shocked the local business community and prompted calls from prominent executives, investors and business groups for his release.
But the Kremlin so far has brushed off those appeals, saying the case is a matter for investigators and the courts. "The investigative actions against Michael Calvey will in no way have any impact on the investment climate," presidential spokesman Dmitry Peskov said Thursday.
While the Kremlin's own business ombudsman has called the jailing "illegal" and the charges "dubious," Peskov said Calvey's situation doesn't necessarily fall under the category of unjustified arrest that Putin discussed in his speech. "Each case has its own particularities," he said.
The Kremlin ombudsmen sent a formal appeal Thursday to the Prosecutor General, alleging Calvey's jailing is a violation of the law, but hasn't gotten a response yet.
U.S. diplomats have not yet been granted consular access to Calvey, despite repeated requests and a requirement they be allowed to see prisoners within four days of arrest, the U.S. embassy in Moscow said on Twitter.
The American is being held for at least two months at Moscow's Matrosskaya Tishina jail. After spending a few days alone in a cell under quarantine, Calvey has been moved to an eight-person one, his lawyer said, and is "comfortable."
Citing a member of a civic-oversight panel who visited him Wednesday, the Interfax news agency reported that Calvey's cellmates include people facing charges of drug violations and intimidation. Prison officials denied the American's request for an extra mattress because of a back problem, Interfax said.
Investigators and officers of the Federal Security Service, the main successor to the Soviet KGB, turned up at the Moscow apartment where Calvey, 51, was staying at around 7am on Feb. 14, according to Kletochkin. They searched it for several hours, as well as the Moscow offices of his fund. Prime Minister Dmitry Medvedev was giving a speech at an investment conference in Sochi the same day.
News of his detention didn't get out until the following day. Calvey lives between Moscow and London.
He is accused of defrauding Vostochny Express Bank, where Baring Vostok is the biggest shareholder. He has said the case is related to an ongoing dispute with Artem Avetisyan, the bank's other big shareholder. Avetisyan, who has ties to the security services, has declined to comment, but his partner, who filed the complaint that led to the arrest, has told local media that it wasn't linked to the conflict.
The central bank held a meeting Wednesday with representatives of Baring Vostok and other shareholders of Vostochny Express to help resolve the conflict, according to local media reports, but there was no word of any outcome Thursday. The central bank didn't respond to a request for comment about the meeting.