Russian Miner Behind Arctic Fuel Spill Reports Pipeline Leak
A Russian mining giant, which is already in a dispute with authorities over a fuel spill in the Arctic earlier this year, has suffered a leak in a pipeline.
MMC Norilsk Nickel PJSC reported a leak at its energy unit estimated at 44.5 tons of fuel near the village of Tukhard in the Arctic, about 2,700 kilometers (1,678 miles) northeast of Moscow. The company is already helping with the clean-up, it said in a statement.
Nornickel fell as much as 2% in Moscow. The shares have dropped almost 20% since the larger incident in May, when 20,000 tons of diesel (about about 150,000 barrels) spilled from one of its storage tanks into a Siberian river system.
The latest accident, at the Norilsktransgaz unit, happened during the transfer of aviation fuel and lasted about 15 minutes, the company said. The spill doesn't pose a threat to the health of people living in the area, Nornickel said. The fuel reached an unnamed lake that is not used as a source of drinking water and was localized, Tass reported, citing the local village administration.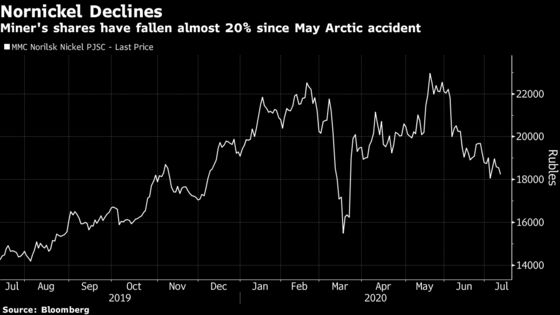 President Vladimir Putin this month ordered legislative changes be adopted by Aug. 1 to help prevent fuel spills following the Nornickel accident.
The company is disputing the $2.1 billion estimate of the damage caused by the May spill. That figure, announced by the ecological watchdog last week, would represent the largest environmental fine in Russian history.