Russian Banks Mull Exporting More Gold
(Bloomberg) -- Russian banks are considering increasing gold exports after the central bank said it would only buy at a discount, a move that could potentially pressure global bullion prices.
The Bank of Russia made the change to its pricing policy this year, saying it would buy from dealers at a level slightly below the benchmark London gold price. It's part of a broader policy push to stimulate growth in the market for gold as a financial investment, namely bars and coins, rather than foreign currencies or assets priced in U.S. dollars.
However, gold as an investment option in Russia doesn't have the same cachet as in other countries, like China or the U.S., and demand for the metal has been stagnant. Given the new discount, some dealers may be reluctant to sell to the central bank, said Oleg Petropavlovskiy, a BCS Global Market analyst.
Executives at some of the Russia's biggest banks and mining companies are evaluating their options for selling gold, including getting a license to sell overseas or increasing exports, according to people familiar with the matter, who asked not to be identified as the talks are private.
"Gold bulls will have a hard time" if the central bank cuts back on its purchases, said Frank Schallenberger, an analyst at Landesbank Baden-Wuerttemberg in Stuttgart, Germany.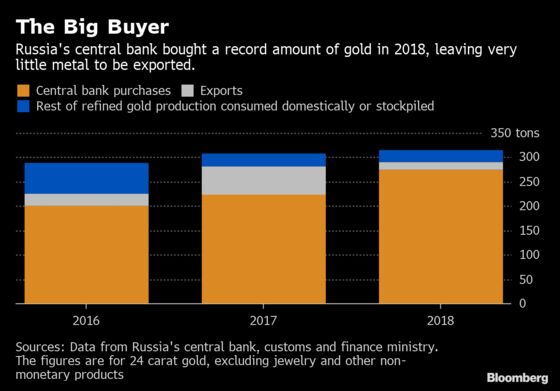 Any shift in Russia's gold buying or exports could have broad implications for the market. The central bank bought 274 tons in 2018, worth more than $11 billion at average prices and accounting for about 6% of global demand, helping put a floor under prices.
"The discount is not critical, but given the large volumes of gold that trade in Russia, the final figure may be noticeable for lenders," said Petropavlovskiy of BCS. "That could push the banks to export."
How Russia's gold market works:
Gold mining companies, including Polyus PJSC, Russia's biggest, sell their supply to banks, who then market the metal to buyers. VTB Bank PJSC and Sberbank PJSC are the two main lenders in the market.
The central bank uses the LBMA Gold Price to value its purchases. In May, it'll start buying at a discount, which will reach 0.21% on organized auctions by December.
Gold sales to the central bank depend on several factors, including the price, as well as markets in Russia and abroad, according to VTB. Spokesmen for the central bank, Sberbank and Polyus declined to comment.
The government is hoping that the banks will sell their gold to Russian investors, helping to develop interest in bullion as a financial product and inflation hedge. Legislators have proposed eliminating the 20% VAT tax on gold purchases as a way to kick-start demand, but it's unclear whether the bill will go through anytime soon.
There's the potential for Russian retail investors to buy up to 50 tons of gold a year, up from the 3 to 4 tons they purchase now, according to the Finance Ministry.