Russia Tests Crimea Fallout With Bond Sale Days After Strife
(Bloomberg) -- Vladimir Putin is using international bond markets to test the fallout from his latest confrontation with Ukraine.
The Finance Ministry is selling 1 billion euros ($1.1 billion) of Eurobonds maturing in 2025 just two days after Russian forces fired on Ukrainian warships near Crimea, according to a person familiar with the matter, who asked not to be identified because the details aren't public.
"Ballsy move by Russia," Tim Ash, strategist at Bluebay Asset Management in London, said by email. "The message from the Finance Ministry is they think investors will see through this and sanctions."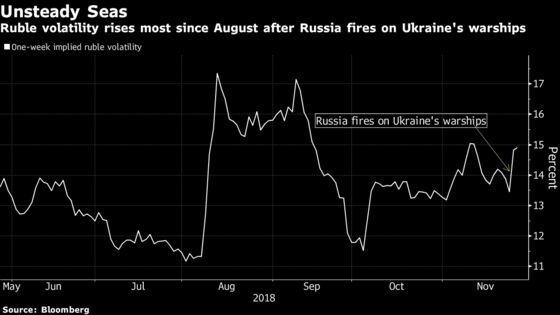 The sale could serve as evidence that Russia's interventionist foreign policy isn't prohibiting its access to international capital markets. After slumping in the aftermath of the Ukraine conflict, Russian assets rebounded slightly Tuesday as the U.S. signaled it's not planning new sanctions over the latest flare-up in tensions. European Union governments are discussing measures, though no action is likely until the facts are fully established.
Viktor Szabo, a money manager at Aberdeen Standard Investments, said he met with Russian Finance Ministry officials in London last week and may be interested in participating in the sale "depending on the price." Morten Groth, a fund manager at Jyske Bank AS in Silkeborg, Denmark, also said he would consider buying. Pavel Mamai, founding partner at London-based hedge fund Promeritum, said earlier he had put an order in for the new bonds.
"I think they're offering a good premium," he said. "Last week would have been better for them to issue due to tensions with Ukraine over the weekend. It has worsened the sentiment a bit."
Sanctions risk has pushed up borrowing costs for Russia's weekly local-currency debt sales, forcing the Finance Ministry to cancel or pare back a string of auctions since August.
Putin and other top officials will be able to tout it at an annual investment forum on Wednesday that's laid on by VTB Capital, the state-owned bank that is the organizer of the Eurobond placement. The bond will be settled via Euroclear and National Settlement Depository.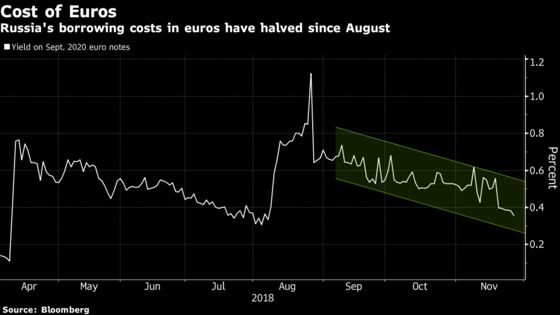 Russia proved in March that it can still access international debt markets when geopolitical tensions are high. Back then, investors bid for almost double the $4 billion of dollar bonds on offer, despite the sale coming days after the poisoning of an ex-spy on British soil that the U.K. blamed on Russia.
The sale in euros fits with Putin's move to reduce Russia's dependence on the dollar as protection against future U.S. sanctions. Issuing in euros also makes sense from a cost perspective since euro yields are declining after European Central Bank President Mario Draghi pushed back expectations for interest-rate increases last month. Kazakhstan and Gazprom PJSC have also sold in euros this year.