Rush for Havens Sparked Record Month for Gold Trading in London
The hunt for a haven as economies closed down helped boost gold trading to a record $46 billion a day in March.
The value of gold changing hands jumped 36% from a month earlier and volumes spiked to the highest in more than two decades, according to the London Bullion Market Association, which oversees the city's gold market.
Investors have piled into gold this year, snapping up coins and bars around the world and sending exchange-traded fund holdings to a record. The search for a store of wealth as shutdowns hurt economies and central banks boosted stimulus measures has helped drive bullion prices to a seven-year high.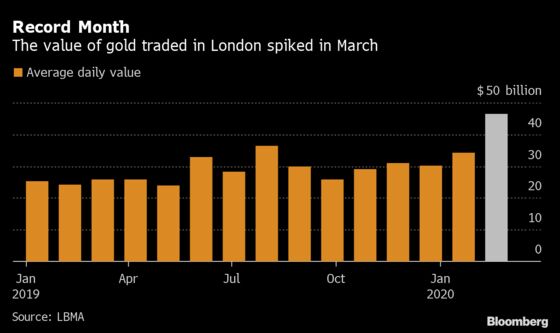 The surge in trading also came as the pandemic put unprecedented strain on the global supply chain that links dealers in London with futures traders in the U.S., miners in South America and refiners in Switzerland. That fueled a historic dislocation between prices in London and New York.
Silver trading also jumped in March. Volumes climbed 44% to a record, with average daily trading rising to $6.4 billion, the LBMA said in a report on Friday.