Rupiah's Biggest Drop Since 2016 Spurs Central Bank Intervention
(Bloomberg) -- Indonesia's rupiah slid the most since November 2016 as trading resumed after the Eid al-Fitr holidays, playing catch up to recent emerging-market losses triggered by rising trade frictions between the U.S. and China.
Bank Indonesia is intervening in the currency and bond markets, Nanang Hendarsah, executive director of monetary management, said in a text message. The rupiah fell as much as 1.2 percent to 14,099 per dollar from its close on June 8, and the yield on benchmark bonds surged. The Jakarta Composite Index added to its 1.8 percent loss from Wednesday, when equity markets reopened after celebrating the end of the holy month of fasting.
The rupiah is among Asia's worst-performing currencies this year, despite getting some reprieve after the nation's central bank raised interest rates twice in a span of less than two weeks to help stabilize the exchange rate. The recent escalation in trade tensions between the world's two largest economies threatens to worsen an emerging-market selloff sparked by rising U.S. rates and a stronger dollar.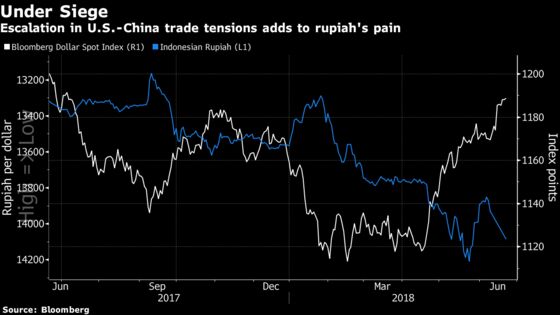 "Bank Indonesia's aggressive policy response helped the rupiah recover, but it remains vulnerable," Brown Brothers Harriman & Co. strategists including Marc Chandler and Win Thin wrote in a note earlier this week.
Thursday's decline has taken the rupiah's losses in 2018 to 3.8 percent. The currency sank to 14,213 last month, the weakest since October 2015.
Even so, the rupiah's slide Thursday compares with a 3.1 percent slump in South Korea's won and a 2.4 percent drop in Thailand's baht since June 8 - the last day of trading in the Indonesian currency before the holidays. The Bloomberg JPMorgan Asia Dollar Index has weakened 1.5 percent in the period.
Bank Indonesia Governor Perry Warjiyo has said the central bank may raise interest rates at its policy meeting next week to defend the currency. "BI is ready to implement further policies to be pre-emptive, front-loading and ahead of the curve toward the new development of the Fed's and ECB's policy course," Warjiyo said in a response to questions via text message on Monday.
Warjiyo's comments "sound hawkish and, in our view, BI is likely preparing the market for another rate hike, as it always does," Credit Agricole CIB strategists including Sebastien Barbe wrote in a June 20 report.
The benchmark stock index fell another 0.2 percent on Thursday. Indonesia's 10-year bond yield jumped 23 basis points to 7.52 percent to head for its highest close since May 24.
"With the weak rupiah likely to feed into higher inflation and the central bank forced to continue hiking rates, we think Indonesian bonds will continue to underperform," the BBH strategists wrote in their note.