Rupiah Is Due a Rebound Though Even Bulls Have Questions
(Bloomberg) -- The Indonesian rupiah is seen outperforming all its Asian peers in the final months of 2020 based on consensus forecasts. Yet, even the bulls are warning that the risk proxy could face significant headwinds.
Economic recovery and the nation's high-yielding debt could lift the rupiah about 1.3% from current levels by end of December, according to analysts surveyed by Bloomberg. It's fallen 6.7% since January, the most in the region by far, suggesting some catch-up play could be in store.
But there are some big caveats for investors willing to take the risk, with a new surge in coronavirus cases and question marks over the independence of the central bank. Westpac Banking Corp., Australia & New Zealand Banking Group Ltd. and Malayan Banking Bhd. are among those projecting gains after some short-term fluctuations.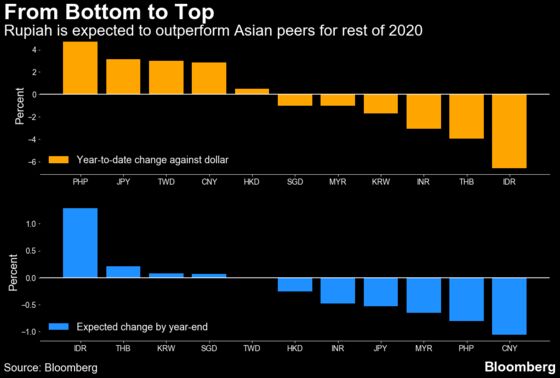 "I expect the rupiah to recover toward the end of the year, but this is contingent on some of the current negative headwinds dissipating," said Khoon Goh, head of Asia research at ANZ. "If the new Covid-19 cases in Indonesia can be brought down, and the proposals to the central bank law impacting on BI independence are dropped, that will see a turnaround in sentiment toward the rupiah, allowing it to outperform."
Goh expects the rupiah to touch 14,300 per dollar by year-end, versus 14,860 on Wednesday.
For more on Covid-19's impact on Indonesia:
Indonesia Seeks to Ease Worries Over Central Bank
Stocks Slump as Jakarta Curbs Threaten Recovery
Frances Cheung, head of Asia macro strategy at Westpac in Singapore, sees the currency ending 2020 at 14,400. MayBank is more bullish, with a forecast of 14,200, but predicts the advance won't start just yet.
"We will likely need the 'dust to settle' from the U.S. elections, or see more successful vaccine trials being completed, before markets are more comfortable returning to rupiah risk assets," said Yanxi Tan, a foreign exchange strategist at Maybank.
The median of fourth-quarter projections compiled by Bloomberg is 14,657.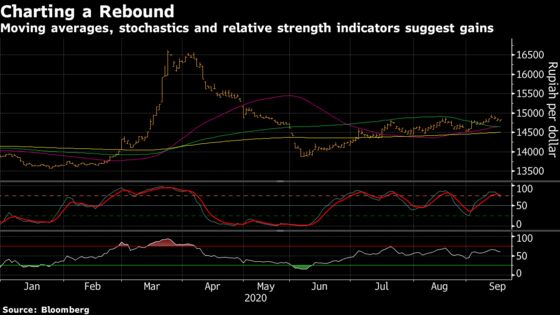 Technical indicators ranging from 50-, 100- and 200-day moving averages to stochastics and relative strength gauges also point to a rebound.
Meanwhile, Bank Indonesia has intensified its intervention in the currency market to defend against rupiah weakness. On Thursday, it's forecast to keep its key rate unchanged at 4% in a policy review while officials are expected to address lingering concerns over their independence.
Still, Kunal Kundu at Societe Generale SA sees potential interest-rate cuts weighing on the currency and expects it to stay at the bottom of Asia's league table for the second half of this year.
Mizuho Bank Ltd. estimates the rupiah may weaken as far as 15,300 by year-end, amid concerns over the virus and debt monetization.
"The resurgence of Covid is hard to contain in Indonesia, which is not doing the rupiah any favors," said Vishnu Varathan, Mizuho's head of economics and strategy.