Rupiah Surges by the Most Since 2016 as Foreign Funds Return
(Bloomberg) -- The investor trepidation gripping emerging markets before the U.S. midterm elections appears to have by-passed the Indonesian rupiah.
The currency jumped as much as 1.3 percent Tuesday to 14,790 per dollar, the most since June 2016, while most of its Asian counterparts barely budged. The rally brought the rupiah's advance this month to 2.8 percent, the best performance in Asia, and added to evidence that the pieces are falling into place for one of this year's hardest-hit developing markets.
Foreign funds have been snapping up Indonesian assets in recent weeks as faster-than-forecast growth and relatively benign inflation of about 3 percent bolstered demand. The rupiah has also been shored up by the introduction of a domestic market for non-deliverable forwards, which is aimed at reducing dollar demand in the offshore NDF market and deterring hoarding of the U.S. currency.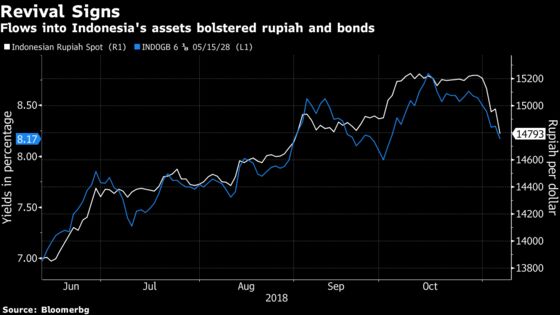 "There's a strong buying spree among foreign investors for Indonesian bonds and stocks, with many apparently realizing that the domestic fundamentals are more resilient than anticipated, particularly on government bonds," said Satria Sambijantoro, an economist at PT Bahana Sekuritas in Jakarta. The rupiah is also being aided by expectations that foreign-exchange reserves rose in October before the data due Wednesday, he said.
The benchmark 10-year bond yield fell 13 basis points Tuesday. Last week, it dropped 35 basis points, the biggest decline since June.
Indonesia reported economic growth of more than 5 percent for a seventh straight quarter on Monday, shrugging off a series of rate hikes by the central bank. Bank Indonesia will next meet on Nov. 15.
Here's what analysts had to say:
Sambijantoro, economist at PT Bahana Sekuritas in Jakarta
"More global fund managers are switching their allocations on Indonesia to overweight, realizing that Indonesia's positive macro indicators -- 5-plus percent economic growth and 3 percent inflation -- really stand out among Southeast Asian economies"
"Indonesian stocks and bonds are well oversold and foreign investors don't want to miss the bandwagon"
A convergence of quotes in the new domestic NDF market with the offshore NDFs is helping curb currency volatility
I Made Budhi Purnama Artha, head of treasury at PT Maybank Indonesia in Jakarta
"The strengthening of the IDR is mostly because the USD is generally weakening against other currencies. But it's also because concerns on the trade war have eased"
"The launch of the domestic NDF market has attracted hot-money players to enter, but they must have underlying assets. So they sell USD and purchase short-term bonds"
"That adds to the USD supply in the market and increases demand for short-term bonds"
"This has created positive sentiment toward the IDR, and is followed by corporate clients and exporters who have been holding onto their export earnings. But the factor that mostly influences this is the USD weakening"
Nick Twidale, chief operating officer at Rakuten Securities Australia in Sydney
"One of the hardest-hit EM currencies in the last few months has been the IDR, and in the current environment it's not surprising to see it recovering some of its losses. The move has been more aggressive for the IDR as were the losses on the way down"
It should find some resistance against the dollar around 14,800 and 14,900, which were the consolidation levels on the way down. The next move for the IDR and other Asian EMs will once again come from the ongoing China-U.S. trade situation and any developments that come from the U.S. side post the midterm elections"
Rico Rizal Budidarmo, treasury director at Bank Negara Indonesia in Jakarta
The "rupiah has the potential to strengthen further, driven by inflows into the stock market for past eight days"
"The catalysts are optimism that there will be a solution to the trade deadlock between U.S. and China, the release of Indonesia's 3rd quarter GDP data that exceeded expectations, and falling global oil prices"