Credit Trouble Puts Risky-Loan Buyers on Alert for 2020
(Bloomberg) -- Buyers of European leveraged loans will start 2020 poised between hopes for another year of solid returns, and fears that the safety of their investments is being undermined by deteriorating credit quality.
Loans have returned about 4.6% in 2019, based on the S&P European Leveraged Loan Index, well behind the runaway high-yield bond market but still a respectable result. While bank analysts anticipate low single-digit returns again next year, they will be high enough to lure yield-hunters and keep demand strong.
But managers are wary. Some highly-levered borrowers are performing poorly in Europe's torpid economy, and price swings on weakening credits don't sit well in an asset class that promises low volatility. Their cautious attitude is set to carry into next year, making fundraising unpredictable and potentially expensive for cyclical credits.
"Loans still benefit from the perception--or reality--that they're a safer high-yielding place to be. But fault lines are appearing with the rise of stressed credits and downgrades, albeit fewer of them than in comparable markets, the U.S. or high-yield bonds," says Fiona Hagdrup, fund manager in M&G Investment's leveraged finance group.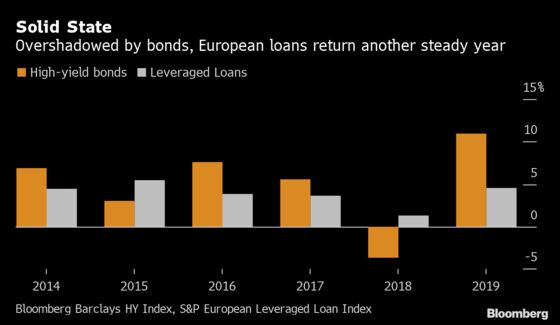 First quarter new-issuance should get off to a good start as there are several M&A transactions ready to go, plus a number of auctions and take-private deals in the works.
Loan issuance including new money and refinancing has fallen more than 10% this year to around 67 billion euros ($74 billion), according to data compiled by Bloomberg, on the back of thin M&A activity. Bank credit analysts anticipate 2020 issuance will be similar to this year but potentially with a larger share of acquisition financing.
Any confidence-boosting signals around trade negotiations, Brexit or economic growth could unlock pent-up dealmaking especially in the U.K., bankers said. Private equity firms are eyeing sectors such as software and health care, and will be willing to pay very high multiples.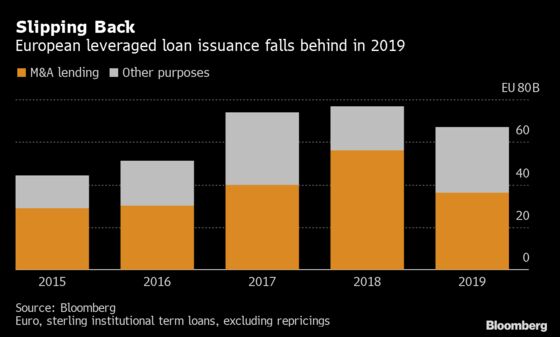 Investors, including CLOs, will be ready to meet new supply, with demand underpinned by supportive central bank policy. This will continue to drive buyers into both the primary and secondary market to boost returns.
"Thanks to Draghi and now Lagarde, loans are one of the answers for a number of European pension and insurance firms in their search for yield," said Thierry de Vergnes, European head of bank loans at Amundi SA. "Some continue to invest and others are increasing their exposure, and in 2020 we may see more of these investors coming into the market."
But building and maintaining a strong portfolio will become more difficult. Better-rated borrowers are replacing loans with cheaper bonds, while a slew of downgrades in the last 12 months has left investors holding more assets than expected on the lowest B rating rung. More may struggle to keep up with projected earnings that were heavily massaged at the outset.
"Real, unadjusted leverage is very high. Transactions are being structured to perfection but we won't stay in economically perfect times forever," said Jonathan Butler, head of European leveraged finance at PGIM Fixed Income. "The cycle may last another year or more but we are seeing deals where—if there are economic shocks—those companies are going to be challenged."
Moody's Investors Service expects a 3.6% default rate by end-October 2020, up from 1.3% at end-2019 for speculative grade corporates. However, only a few borrowers have looming maturities, covenants to trigger a restructuring are rare, and lenders don't see an imminent recession.
Going forward, private equity buyers will need to keep leverage multiples low and be prepared to pay more for their debt when they want to buy businesses in cyclical sectors. For the underwriters, the risks of making a mistake in judging what the market will accept are higher.
Several large deals have proven difficult this year. Underwriters of Kantar Group, CRH Europe Distribution and Evonik Industries AG's plastics unit struggled to sell their deals. GSO Capital Partners is said to be providing half the debt for the buyout of BASF's mortars division.
Core demand will keep the doors wide open for strong credits. Single B loan spreads have fallen since the summer and are set to end the year at around the 400 basis point mark, within a 300-500bps range for easier and tougher credits.
"Investors have got more efficient at pricing risk," said Abudy Taha, managing director in UBS's leveraged capital markets team. "Underwriters will show more caution on cyclical industries. That doesn't mean those deals don't get done, but they will be financed in a more conservative way."
(Ruth McGavin is a leveraged finance strategist who writes for Bloomberg. This analysis and her observations are her own and not intended as investment advice.)