Ruble Traders Get That Sinking Feeling Cheap Oil Is Here to Stay
(Bloomberg) -- The ruble fell more than any other major currency and borrowing costs surged as negative crude prices in the U.S. pointed to a period of unprecedented weakness for Russia's key export earner.
The currency was poised for its steepest two-day slide in a month, as traders ignored assurances from President Vladimir Putin's spokesman that Russia had the resources to weather the slump and that record-low oil prices shouldn't be seen in an "apocalyptic" light.
The Russian market is being hit by "the realization that we may have an extended period of lower prices," said Peter Kinsella, London-based global head of forex strategy at Union Bancaire Privee. The prospect of a return to interest-rate cuts at the end of the week is also adding pressure to the currency, he said.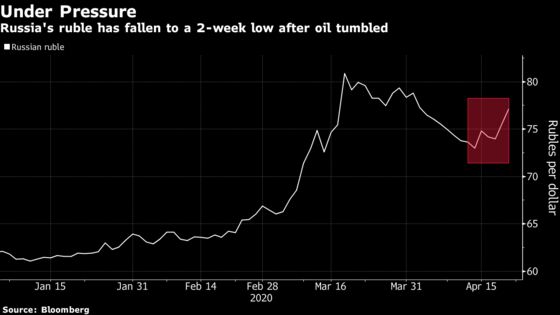 Should the ruble's slide accelerate dramatically, those plans for monetary easing may be shelved, Kinsella said.
Russia's low debt burden and half a trillion dollars of reserves made it a favorite last year among emerging-market investors. But the scope of the slump in crude has thrown up memories of the nation's bitterest contractions as Russia's Urals blend touched levels last seen in 1998, the year the country defaulted on its local debt and devalued the ruble.
Ten-year bond yields jumped the most since March 18. The Finance Ministry announced a mix of medium-maturity floating and fixed-rate ruble notes for its weekly auctions on Wednesday.
The currency traded 2.2% weaker at 77.2350 per dollar as of 6:30 p.m. in Moscow, headed for its lowest since April 2. The ruble should trade closer to 78-83 per dollar, according to Deutsche Bank.
Current levels are "not sustainable if oil doesn't stabilize," analyst Christian Wietoska said. "The valuation looks stretched historically and versus peers."