Ruble Jumps Most Since April as Sanctions Woes Forgotten for Now
(Bloomberg) -- Russia's ruble headed for its biggest gain since April as traders returned after a public holiday, catching up with a spike in oil above $40 per barrel and an uptick in risk appetite as Joe Biden edged closer to securing the U.S. presidency.
The chance of a victory for Biden in the U.S. elections and the possibility of new sanctions against Russia had pressured the ruble for months, but some investors argue that the geopolitical risks are mostly priced in. The ruble is at least 10% undervalued, Amundi Asset Management money manager Yerlan Syzdykov said last week.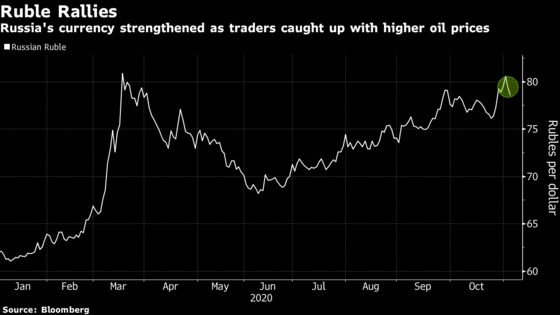 The "lack of increased tensions between Russia and the U.S. after the elections," which investors had feared, has supported the ruble, Sberbank strategist Yuri Popov said by email. If this persists, the "geopolitical premium" of about 10 rubles in the exchange rate versus the dollar will gradually decrease, he said.
The ruble sank 7% in the last three months as the vote approached, one of the worst performers in emerging markets. The poisoning of an opposition activist and Moscow's support for the incumbent in a disputed Belarusian presidential vote triggered international criticism and returned the specter of sanctions.
But on Thursday, with Biden poised to claim victory, the ruble was the biggest gainer in emerging markets. Developing-nation assets generally got a boost as the dollar weakened on wagers a Biden White House and Republican-controlled Senate would make a multitrillion-dollar stimulus package less likely, forcing the Federal Reserve to keep rates lower for longer.
The ruble rose 2.9% to 77.1275 versus the dollar as of 6:17 p.m. in Moscow. Brent crude, Russia's key export earner, traded little changed after surging almost 4% on Wednesday when local markets were shut.
The oil market is more important for the ruble than U.S. election developments, Emerginomics analyst Tatiana Orlova said. "Investors should not rush to sell Russian assets only because a Democrat may be returning to the White House."
While the U.S. may impose sanctions over the poisoning of Alexey Navalny, that wouldn't be likely until end of the first quarter next year, and penalties would more likely focus on officials rather than companies, according to Orlova. As for the so-called nuclear option of sanctioning Russia's local sovereign debt, that's "unlikely," even under a Democratic administration, she said.
The yield on 10-year ruble bonds tumbled 32 basis points to 5.92%, the lowest level in three months.