Traders Eye Cheap Rubles as Hedge Against Trump Election Win
Russia's ruble may offer a cheap way to hedge against a presidential victory by Donald Trump after it crashed to a seven-month low on Monday.
Mariusz Banasiak, head of local currency rates and currency at PGIM Fixed Income, which oversees about $920 billion, said he's using the ruble as a hedge because Russia would be the biggest beneficiary if the incumbent gets a second term. Shorting the dollar and buying the ruble presents the "best risk-reward" if polls prove wrong and Trump wins, Societe Generale SA analysts wrote in a note last week.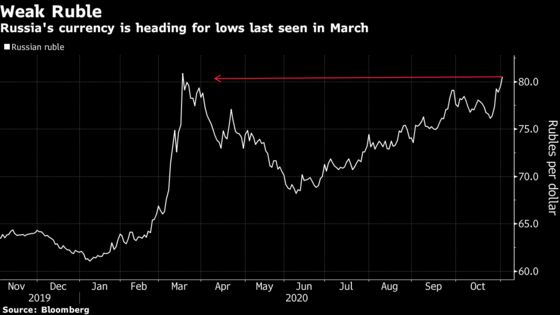 Sinking crude prices were responsible for the ruble breaching 80 per dollar on Monday, but concern Joe Biden will crack down on Russia if he wins the vote has helped make the currency the worst performer in emerging markets in the past month after the Turkish lira. The ruble is at least 10% undervalued, Amundi Asset Management money manager Yerlan Syzdykov said Friday at an investment forum in Moscow.
Russia's currency fell as much as 1.8% to 80.9525 per dollar, close to the four-year low it reached at the peak of the market rout in March. It closed 1.3% weaker in Moscow on Monday. Ten-year bond yields rose eight basis points to 6.25%, set for the highest in more than a month.
Crude sank to a five-month low earlier in the session on Monday as a continued increase in Libyan production coincided with a wave of new restrictions to combat the virus. Swathes of Europe enter lockdown this week, with England joining nations from Austria to Portugal taking tougher action to counter virus infections.
Though speculation about the threat of new sanctions has returned, Russia's finances remain relatively strong and the country has one of the lowest debt-to-GDP ratios in emerging markets. Despite this year's currency slump, foreign investors still hold more than 3 trillion rubles ($37 billion) of domestic government bonds, close to a record high.
"Russian fundamentals are solid," SocGen's Jason Daw wrote in the note.