Shell and Conoco Don't Deserve This Treatment
(Bloomberg Opinion) -- You oil investors are one tough crowd. I mean, what do you want, really?
On Thursday morning in Europe, Royal Dutch Shell Plc finally came around and gave the masses what they had been shouting for: a $25 billion buyback program. The masses promptly dumped the stock. On Thursday morning in America, ConocoPhillips announced a slew of forecast-beating results, having recently boosted its own buyback program by $1 billion. But it also said it was raising its full-year investment budget by $500 million. Pearls were duly clutched and "sell" buttons pushed (the stock had moved into slightly positive territory as of writing this).
In Shell's case, there were other things that took the shine off the announcement, such as a strangely slow start to the buybacks and a sizable miss on second-quarter earnings. Even so, people: $25 billion. Plus, Shell just clocked up its eighth quarter of positive free cash flow (like you wanted).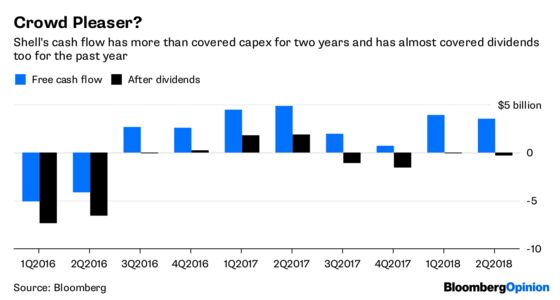 Conoco's case is even less explicable. The company generated $500 million of cash in less than two weeks in the second quarter. It beat earnings and (especially) cash-flow forecasts and also exceeded expectations on production (while raising guidance for the year). That production performance, along with hitting debt-reduction targets 18 months early and the existing buyback program, mean output per debt-adjusted share continues to rise very quickly: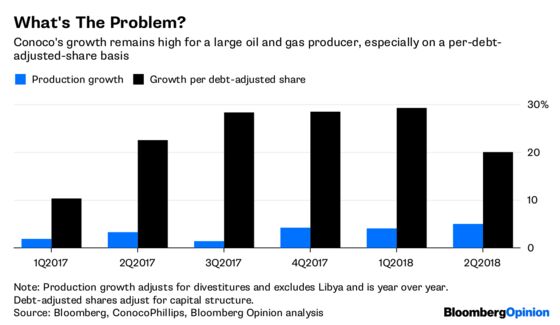 As I wrote here, Conoco tends to realize good pricing for its oil output. That reflects its diverse portfolio, meaning it doesn't suffer as badly from the current bottlenecks in Texas.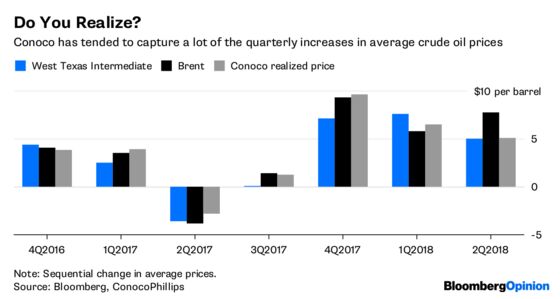 Put higher output and good realizations together, and you get strong cash flow. Cash from operations in the second quarter was $3.34 billion, almost double the level of a year ago. Free cash flow of $1.34 billion was four times the dividend obligation. Looking back to the first quarter of 2016 — when Conoco was forced to cut its dividend — free cash flow and capital expenditure per share have shifted to a much better relationship and are now rising in sync: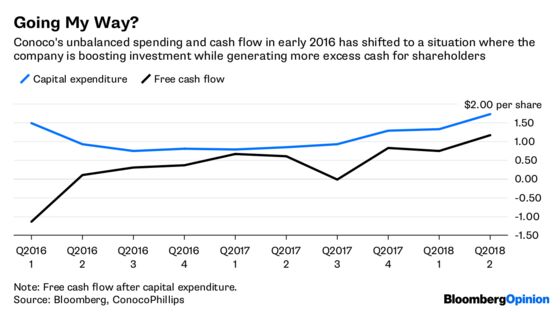 This is why an extra $500 million of spending really shouldn't cause a panic. Yes, this industry has a terrible track record of chasing the cycle, and Conoco has made discipline the center of its messaging, so any sign of slippage might set off alarm bells.
But consider: Under guidance laid out last year, Conoco estimated it would generate cash from operations of $10 billion assuming an oil price of $65 a barrel. Today, it estimates $65 oil equates to cash flow of $11.5 to $12 billion (crude oil has averaged about $66 so far this year). That is $1.1 to $1.6 billion higher than the current consensus forecast, according to figures compiled by Bloomberg. On that basis, an extra $500 million of spending (with 80 percent of it pertaining to more development and production rather than cost inflation) looks positively cautious compared to the bad old days. On Thursday's earnings call, Conoco hinted with all the subtlety of an oil rig that more buybacks were coming beyond the current program.
This all shows how far the recent crash has shifted what investors want from large oil companies and how sensitive they've become to any indication of deviation. Even so, both Shell and, especially, Conoco deserve a break. 
This column does not necessarily reflect the opinion of the editorial board or Bloomberg LP and its owners.
Liam Denning is a Bloomberg Opinion columnist covering energy, mining and commodities. He previously was editor of the Wall Street Journal's Heard on the Street column and wrote for the Financial Times' Lex column. He was also an investment banker.