Rotation Keeps Investors' Heads Toward Defensives: Taking Stock
(Bloomberg) -- It's been a difficult year for cyclical stocks. After peaking in February, the ratio between cyclicals and defensives has been dropping relentlessly and any rebound quickly petered out. The ratio is now standing at a two-year low and is beneath its long-term median level.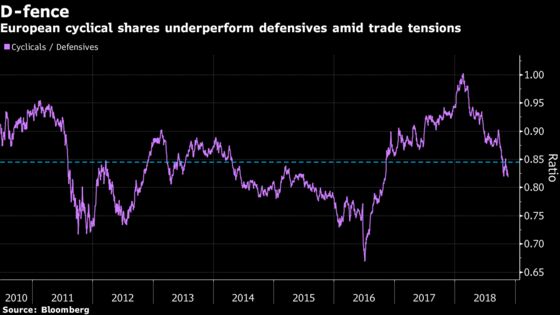 Ahead of the open today, Euro Stoxx 50 futures are up 0.5 percent while S&P 500 futures gain 0.6 percent, signaling a rebound. Still, the rotation out of cyclicals and other trade-sensitive equities is striking in November. Tensions over tariffs, global growth worries and political turmoil in Europe have had a significant impact on the market, although some sector-specific issues also played a part.
Dividend-generous stocks came out as winners, with utilities and telecoms the top performers so far this month. Stable cash flows, greater pricing visibility, lower sensitivity to global trade proved to be a winning combination
Food and beverage "safe-haven" stocks also outperformed to a lesser extent
European tech stocks have been hammered even harder than their U.S. peers amid a flurry of profit warnings as the trade war escalated and demand peaked
A ~26% free-fall in oil prices from October peak amid higher stockpiles and over-production has hurt oil majors
Other trade-sensitive shares including personal goods and industrials complete the laggards chart of the month, a sign investors confidence into global growth has not been restored
Some sectors were impacted by specific events like profit warnings (chemicals with Covestro AG), or sudden management shakeup (autos with Renault SA).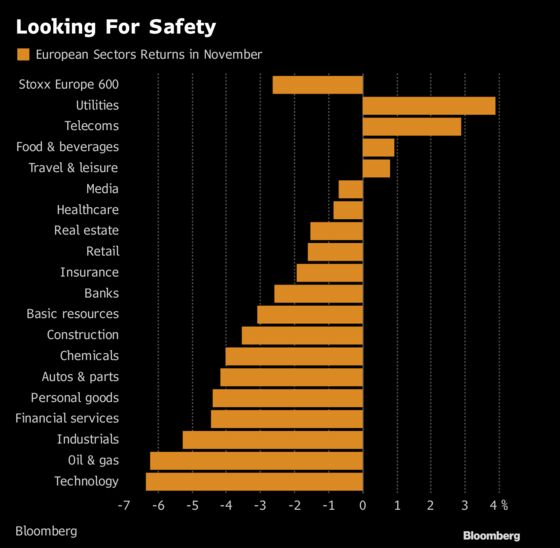 Looking ahead, Goldman Sachs Group Inc. strategists including Lilia Peytavin expect economic growth to slow and a modest fall in oil prices over the next three years, which should translate into low revenue growth. But they don't expect a recession and still recommend high growth companies. As for the U.S., the bank's strategists advise investors to boost their cash positions and tilt their portfolios toward defensive sectors including utilities. They forecast the S&P 500 will generate "a modest single-digit absolute return" next year as the "robust" profit and economic growth seen in 2018 slows.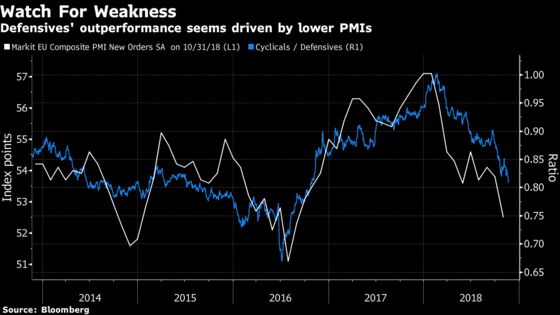 Data to watch for investors will be the next few PMIs to assess whether to keep a defensive stance or go back to cyclicals. In its 2019 Europe outlook, Goldman Sachs strategist Peter Oppenheimer wrote that "the fall in the equity market broadly, and in more cyclical parts of the market in particular, have also implied a bigger fall in growth than we think is likely." By contrast, should the PMIs continue to fall, then a bear market will become increasingly likely.
Watch the energy sector. Stocks sank, the oil price hurtled lower, corporate bond markets started to show real signs of stress and markets around the world shared in the misery. U.S. crude inventories data are due in the European afternoon, so no guarantees this will hold. Stock may recover but brace for more volatility.
Watch the pound and U.K. stocks in general, as Prime Minister Theresa May goes to Brussels to meet with European Commission President Jean-Claude Juncker. Any tangible signs that progress has been made could give the pound a big lift but equally, if the headlines flowing out indicate the EU is unwilling to budge, it could be a difficult day in U.K. stocks.
Watch Italian government bonds and any impact this could have on Italian banks as the market awaits the European Commission's report on Italy's budget plans. This includes UniCredit, Intesa Sanpaolo, Mediobanca, Banco BPM, FinecoBank and UBI Banca. More broadly, watch the FTSE MIB benchmark in Italy, which has finished in the red in 10 of the last 12 sessions and which has dropped in all of the last five.
Watch Adidas and Puma shares after U.S. footwear retailer Foot Locker's 3Q earnings outpaced analyst expectations. Also watch sportswear and equipment retailers in Europe, including Sports Direct, JD Sports Fashion, Amer Sports and Footasylum. Foot Locker shares jumped 12% in extended trading, helping Nike shares higher and with the potential to give a lift to Under Armour and Dick's Sporting Goods
"While many would argue a correction has been on the cards for some time due to the growing list of risks to the outlook, be that rising US interest rates, Trump's aggressive trade agenda, Brexit, Italy or one of a number of other headwinds, how bad it will get is difficult to say. We're already near the October lows and in correction territory, even close to bear market in some cases such as the DAX, if this is just a corrective move, I would expect investors to start eyeing up some bargains soon," Craig Erlam, senior market analyst at Oanda, writes in a note.
Nyrstar agreed on a $650 million financing deal with Trafigura Group to stabilize the troubled zinc producer.
South African energy and chemicals company Sasol said it expected to report strong first-half earnings, boosted by higher oil prices and a weaker rand.
Thyssenkrupp reported full-year earnings largely in line with its lowered profit forecasts as the embattled German industrial giant prepares to split itself in two.
The Trump administration has invited the CEOs of three German automakers for talks at the White House as European and U.S. government officials try to negotiate a new trade agreement, according to people familiar with the matter.
Renault says Ghosn remains chairman, CEO; Bollore deputy CEO.
Generali Targets Annual Average EPS Growth of 6%-8% Through 2021
Uniqa Nine Month Net Income EU166.2 Mln
U-Blox Cuts Sales, Profit Forecast 2018; Provides 2019 Guidance
Nissan Eyes Revising Renault Alliance, Including Stake: NTV
Fresenius Kabi Recalls 163 Lots of Sodium Chloride Injection
Orange CEO Says Market Consolidation Talks Possible in 1H: Echos
BHP Says Boom-Time Mining Investments Have 'Destroyed Value'
Pernod to Continue M&A in Very Profitable Niches: CEO to Figaro
Alitalia Accepts Binding Offer by Ferrovie Dello Stato: Reuters
Axa Says Net Proceeds of Axa Equitable offering $1.8 Billion
Randgold's Bristow Shuffles Barrick Communications Post Merger
Mazuelo to Offer EU109/Shr for Rest of Baron de Ley
Bayer Treatment Granted Orphan Drug Status by FDA
FDA Warns About Severe Worsening of MS After Stopping Gilenya
Airbus Names Infineon's Dominik Asam Next CFO
Nexity Reiterates Short and Mid-Term Financial Targets
Danske Bank Doesn't Need More Capital Requirements, Jarlov Says
Generali CEO Says to Set Aside EU3b-EU4b to Invest in Growth: FT
Biffa 1H Net Revenue Up 4.2%, FY Expectations Unchanged
Kingfisher 3Q U.K. And Ireland Like-for-like Sales -0.7%
Babcock First Half Adjusted Operating Profit GBP279.6 Mln
Sage Full Year Revenue Matches Estimates
Johnson Matthey Sees Profit Growth at Top End of Guided Range
United Utilities 1H Adj Pretax GBP240.3 Mln
NOTES FROM THE SELL SIDE:
RBC cut Swatch to sector perform from outperform as the stock lacks near-term catalysts and current consensus margin expectations look too lofty at present. The broker trimmed FY18-19 Ebit forecasts on lower assumptions for growth in Asia in 2H18 and into 1H19; some of this down to tougher comparatives but also slower Chinese offshore purchases.
Berenberg is most optimistic on Knorr-Bremse, initiating the stock at buy. The broker says the company "deserves a best-in-class valuation" based on competitive quality, citing dominating market shares, especially in the more resilient rail business, and and a sizable exposure to high-margin after-market activities. Separately, Morgan Stanley initiates coverage at equal-weight, and also says co. has "best-in-class" business within Europe's capital-goods sector.
TECHNICAL OUTLOOK for Stoxx 600 index:
Resistance at 353.2 (50% Fibo); 365.1 (38.2% Fibo)
Support at 342.9 (trend channel); 341.2 (61.8% Fibo)
RSI: 32
TECHNICAL OUTLOOK for Euro Stoxx 50 index:
Resistance at 3,194 (50% Fibo); 3,262 (March low)
Support at 3,072 (61.8% Fibo); 2,921 (76.4% Fibo)
RSI: 33.5
MAIN RESEARCH AND RATING CHANGES:
UPGRADES:
Ahold Delhaize raised to buy at Kepler Cheuvreux; PT 25.40 Euros
British Land upgraded to buy at HSBC; PT 6.67 Pounds
Bureau Veritas upgraded to buy at HSBC; PT 23.50 Euros
CYBG upgraded to buy at Shore Capital
Dassault Aviation upgraded to buy at Oddo BHF; PT 1,800 Euros
Ence upgraded to buy at JB Capital Markets; PT 9.45 Euros
Ence upgraded to outperform at BBVA; PT 7.50 Euros
Enel upgraded to outperform at MainFirst; PT 5.40 Euros
Enel upgraded to outperform at Mediobanca SpA; PT 5.40 Euros
Panalpina upgraded to neutral at Goldman; PT 138 Francs
Premier Foods upgraded to buy at Jefferies; PT 50 Pence
SGS upgraded to hold at HSBC; Price Target 2,250 Francs
Scandinavian Tobacco raised to buy at SEB Equities
Sulzer upgraded to buy at HSBC; Price Target 121 Francs
TCS Group GDRs raised to overweight at Morgan Stanley; PT $22.80
Austrian Post downgraded to sell at Berenberg
EssilorLuxottica downgraded to hold at HSBC; PT 128 Euros
Indivior downgraded to sector perform at RBC; PT 1.30 Pounds
Interserve downgraded to hold at Stifel; PT 35 Pence
Luxottica downgraded to hold at HSBC; PT 59 Euros
MPC Muenchmeyer Petersen Capital cut to hold at Kepler Cheuvreux
Santa Fe Group downgraded to sell at ABG; PT 5.50 Kroner
Scatec Solar cut to hold at Kepler Cheuvreux; PT 68 Kroner
Swatch downgraded to sector perform at RBC; PT 370 Francs
Allgeier rated new outperform at MainFirst; PT 40 Euros
Globalworth Real Estate Investments rated new buy at Jefferies
Knorr-Bremse rated new equal-weight at Morgan Stanley
Knorr-Bremse rated new neutral at JPMorgan; PT 86 Euros
Leasinvest rated new hold at Kepler Cheuvreux; PT 96 Euros
NAC Kazatomprom GDRs rated new outperform at BMO; PT $17
Shurgard Self Storage rated new buy at SocGen; PT 30 Euros
Smart Metering rated new equal-weight at Barclays
MSCI Asia Pacific down 0.4%, Nikkei 225 down 0.4%
S&P 500 down 1.8%, Dow down 2.2%, Nasdaq down 1.7%
Euro up 0.2% at $1.1393
Dollar Index down 0.16% at 96.68
Yen down 0.06% at 112.84
Brent up 1.3% at $63.3/bbl, WTI up 1.6% to $54.3/bbl
LME 3m Copper up 0.2% at $6195/MT
Gold spot up 0.1% at $1222.6/oz
MAIN MACRO DATA (all times CET):
10am: (IT) Istat Releases Economic Forecast for 2018 and 2019
10:30am: (UK) Oct. PSNB ex Banking Groups, est. 6.1b, prior 4.1b
10:30am: (UK) Oct. Public Sector Net Borrowing, est. 5.6b, prior 3.3b
10:30am: (UK) Oct. Central Government NCR, prior 14.7b
10:30am: (UK) Oct. Public Finances (PSNCR), prior 15.8b
11am: (EC) OECD Economic Forecasts