David Rosenberg 'Nibbling' on Dividend Stocks in Quickening Rout
(Bloomberg) -- David Rosenberg, who's long been advising clients to brace for the worst, spent Thursday morning riding out the market mayhem on a treadmill.
"I'm at the gym because I have to de-stress," Rosenberg, founder of Rosenberg Research and Associates Inc. said by phone, panting slightly. "There's nothing better than doing a five minute plank to get your mind off the market's troubles."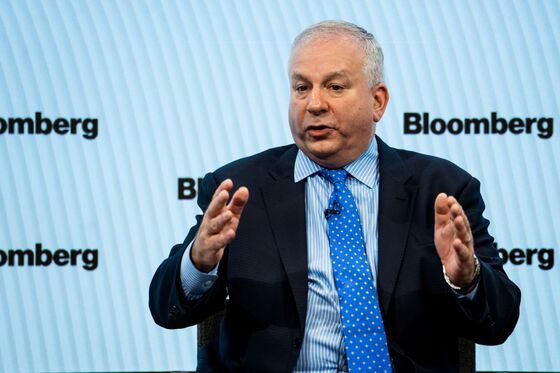 With a clearer head, he's "nibbling back into the market" and advising clients to look for stocks where dividends are safe. Canadian banks, multifamily REITs and telecom stocks all look attractive, he said, with the caveat that it's impossible to tell when the market will bottom.
He's also advising clients to maintain exposure to long-term Treasuries and gold and to consider short-term corporate credit investments as rates go down.
Rosenberg, who presciently warned of a U.S. housing bubble in 2005 when he was chief North American economist at Merrill Lynch, has been worrying about the fragility of the global economy for months and believes a recession is starting.
"I wasn't forecasting a pandemic," he said. "My caution was really over the fact that we had no cushion on growth, no cushion on inflation, no cushion on interest rates and no cushion on fiscal policy in the event of an exogenous shock."
Now, the world is facing a triple shock to global supply chains, consumer cyclical services and oil prices, he said. That has sent U.S. and Canadian stocks tumbling into a bear market, with losses of more than 20% from their peaks.
For the past year, the cornerstone of Rosenberg's investment strategy has to been to hold cash, gold and Treasuries. "I looked like a bit of clown in that QE4-induced rally that started in October of last year but as my grandmother once told me, forewarned is forearmed."
He takes no solace in being proven right.
"This is an absolutely horrible situation, at every level. Maybe I'm redeemed in terms of my call, but it's nothing to celebrate, I can tell you that much. I feel absolutely horrible about the whole thing," he said.
"But hey, at least I'm in cash."