Roku Options Target 14% Post-Earnings Move as Rebound Fades
(Bloomberg) -- Roku Inc. dropped as much at 3.7 percent to $51.65 as the streaming-media technology company prepares to release fourth-quarter earnings, and at least one options trader appears to be hedging against further declines in the wake of the report.
More than 5,000 Feb. 22 $50 puts changed hands in early trading on Thursday. At least one block of about 1,600 of those contracts were bought at an implied volatility of 310 percent, compared with the three-month average of 85. Overall, options prices imply a move of about 14 percent in the shares after the release, significantly lower than the 22 percent drop that followed the third-quarter report.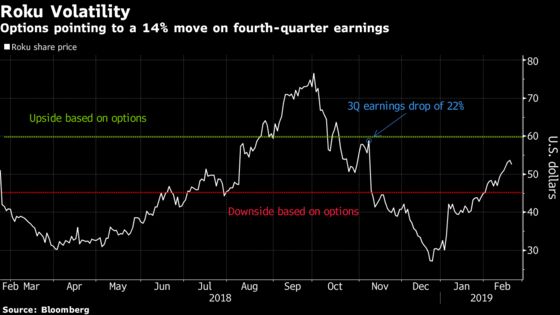 Roku shares have almost doubled from their December lows, leaving them up more than 270 percent since the September 2017 initial public offering. The Los Gatos, California-based company's stock has rallied despite the fact that it has yet to turn an annual profit and isn't expected to until 2020, according to analyst estimates compiled by Bloomberg.
While the average post-earnings move in Roku shares has been 24 percent in the five quarters since its IPO, Cowen derivative strategist Ling Zhou points out that the figure has been skewed by an outsize reaction to the company's debut release.
"If you exclude the first-ever earnings report where the stock rallied 54.9 percent, the average move is only 15.8 percent," Zhou said.
Contracts set to expire on Feb. 22 make up about 22 percent of total open interest. Of those options, calls outweigh puts by 17 percent.