CEO Behind Philippines' Biggest REIT IPO Eyes Earnings Rebound in 2022
(Bloomberg) -- Robinsons Land Corp could return to pre-pandemic level earnings in the second half of next year, according to the CEO of the Philippines second-largest mall builder.
It all depends on the breadth and depth of the country's economic reopening, Frederick Go said in an interview Wednesday. Go this month pulled off the largest Philippine real estate investment trust IPO, raising about $472 million from the maiden share sale of RL Commercial REIT Inc., which owns 15 of Robinsons Land's 27 office buildings. 
"If vaccinations go well, we have good elections and the global economy returns, maybe the second half of next year might be a good target for business to return," the CEO said.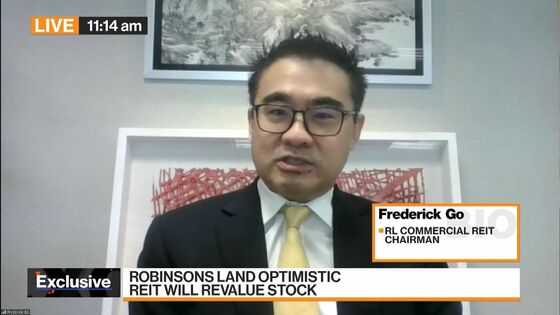 Go will spend about half of the IPO proceeds to build up Robinsons Land's rental assets that could contribute to income in as early as 12 months, he said. Citing resilient demand from BPOs and call centers, Go is considering accelerating an office construction that may involve Robinsons Land opening two buildings instead of one in 2022. 
RL Commercial's gross leasable space may exceed half a million square meters by the end of 2022, Go said. It now has 425,315 square meters of space, the biggest portfolio of the nation's four listed REITs.
Apart from properties developed by Robinsons Land, the CEO is open to acquiring third-party real estate assets to provide RL Commercial with "significant growth in the next few years."
Go is optimistic a re-rating of the builder's stock will eventually come after hiving off 65% of its office space into a REIT. Its shares have fallen over 23% this year, compared to a 4% decline in the benchmark PSEi Index.
RL Commercial has a 64 billion peso ($1.3 billion) market capitalization compared with Robinsons Land's 84 billion peso market value.
"Robinsons Land has so much potential to be re-rated," he said. "But the reality is we are in a pandemic, that it's not easy to share this information. It might take some time."