Robinhood Plans Free U.K. Stock-Trading Launch in First Quarter
Robinhood Markets Inc. plans to offer its stock-trading service outside the U.S. for the first time, launching in the U.K. in the first quarter of 2020.
The startup, valued at $7.6 billion in its most recent fundraising, received authorization from the Financial Conduct Authority to operate in the U.K. in August, has gained a following among U.S. millennials by allowing them to trade stocks for free on its mobile app. U.K. customers won't be charged a commission for investing in U.S. and global stocks, nor will there be foreign-exchange fees or minimum account balance, according to a statement by the Menlo Park, California-based company.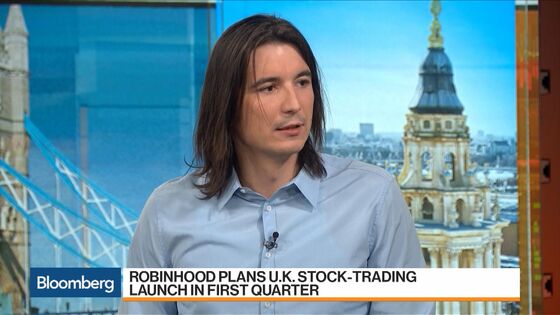 U.K. customers already have plenty of choice of fintechs offering them savings and payments, yet there are fewer options for investing, Wander Rutgers, president of Robinhood U.K., said in an interview. For example, the finance startup Revolut is expanding into stock trading.
"U.K. fintechs have trained the U.K. population to try new financial products but most people don't engage with investing and when they do they pay too much," said Rutgers.
Robinhood was founded in 2013 by Baiju Bhatt and Vlad Tenev and counts DST Global and Sequoia Capital among its investors. The company says it makes most of its money from subscriptions to its Robinhood Gold service, as well as from rebates from market makers and stock loan income.
"At first we started with commission-free trading for the iPhone and now we are thinking how can we serve all financial needs for people at the lowest costs?" Tenev said in an interview.
The announcement of the U.K. expansion follows a public-relations setback in the U.S., when a glitch in its system allowed users to trade stocks with excess borrowed funds, giving them access to what amounts to free money. That came less than a year after a planned Robinhood checking account product was torpedoed by regulatory and insurance questions.