Roaring Start to the '20s Leaves One Stock Market Nook Stranded
(Bloomberg) -- A new decade, a new record for U.S. stocks, which started this year much as they ended the last. But while large-cap equities thundered along, one pocket of the market was left out of the first-day festivities.
For bulls heading into the new year betting on small caps, Jan. 2 was a disappointment. While the S&P 500 climbed 0.8% to a fresh high, the Russell 2000 of smaller firms fell 0.1%. Relatively speaking, the group, often considered as a leading indicator of the domestic economy, hasn't had such a lousy start since 2013.
While one day isn't enough to get worked up over, the poor return for now defies consensus that a pickup in economic growth will lift smaller companies. The bad day coincided with a flattening yield curve in the bond market, a sign that investors may be adjusting growth assumptions after assets from equities to fixed income delivered the best year in a decade in 2019, according to Larry Weiss, head of equity trading at Instinet LLC in New York.
"There is always some anxiety about how the markets will follow up a big year," Weiss said in an interview. "Many still think we can avoid a recession in 2020, but signs seem to be pointing to some slower growth."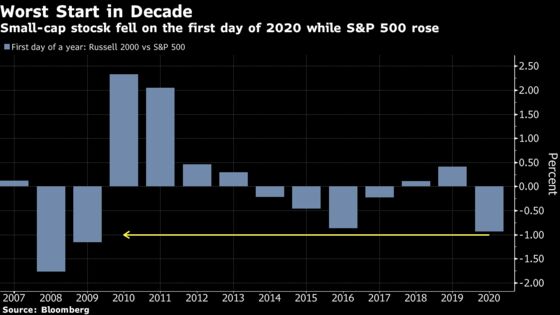 Large-cap equities have seen a lot of big starts over the last few years. The S&P 500, which jumped 0.84% Thursday, surged 0.83% in the first session of 2018 and 0.85% in 2017. Meanwhile, the Russell 2000 fell for the fourth day in five, bucking gains in the broad market. Part of the performance reflected a big difference in sector compositions between small- and large-cap stocks.
Tech and communication stocks, some of the day's winners, make up only about one fifth of the Russell 2000 while comprising a third of the S&P 500. On the other hand, the biggest losers such as utilities and real estate, have a bigger share in small-caps.
Still, such diverging performance isn't what bulls expect to happen. In a December survey conducted by Bloomberg, four of the five strategists predicted small-cap stocks will beat the S&P 500 in 2020, helped by relatively attractive valuations and a pickup in growth.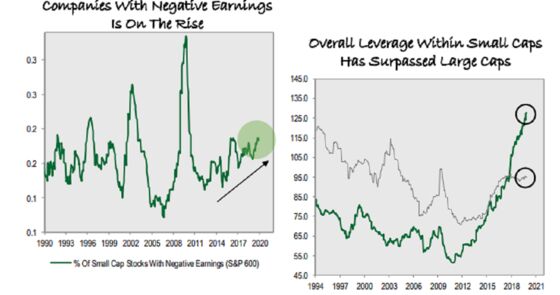 Small caps have trailed the market in each of the past three years as profit slumped the most since 2009 and frequent recession fears drove investors into the safety of larger firms. While the economy is poised to improve, it may not be strong enough to fix the core problem for small-caps: a lack of earnings power, according to Michael Kantrowitz, head of portfolio strategy at Cornerstone Macro LLC.
About 22% of companies in the small-cap universe are unprofitable, the highest proportion in the past 25 years outside recessions, data compiled by Cornerstone showed. Meanwhile, their leverage ratio, or debt versus equity, has surpassed their larger counterparts for the first time.
"Growth hasn't been strong enough to really lift some of the zombie, small-cap companies," Kantrowitz said. "Even when we re-accelerate, like we believe in 2020, it's going to be a mild re-acceleration because we already have full employment," he said. "For small-cap companies that don't earn a profit, we think investors will continue to shun these names."