Risk Appetite Has Been Blind: Stock Buyers Brace for Correction
(Bloomberg) -- Investors betting on a sustained recovery in Asia Pacific equities are seeing their hopes dimming by the day.
The risk of a second wave of infections, ongoing nationwide lockdowns and a collapse in commodity prices all mean that regional stocks could see another leg down -- of as much as 20%, some market participants said. The MSCI Asia Pacific Index's steady advance toward a bull market in the past month was jolted this week as a sudden collapse in oil prices deepened recession fears.
The recent risk appetite has been "blind," according to Olivier d'Assier, head of Asia Pacific applied research at Qontigo GmbH. "No data yet supports the V-shape recovery scenario" investors were rushing to buy, he said, adding there could be delayed re-openings and failed ones that could lead to more infections in the coming weeks.
The slump in oil prices paints a grim picture of an economic morass as traders expect total destruction in demand. In the short period since the earnings season began, cost cuts, workforce reduction and factory closures have been prevalent in management commentary.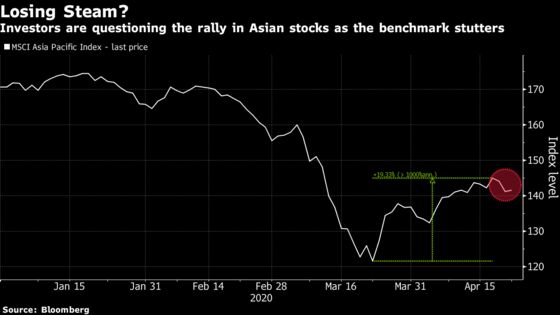 While the oil market has already priced in "the new reality of COVID-19," stocks still have some way to go, according to Rainer Michael Preiss, equity chief investment officer at the Global CIO Office. "A 20% correction in Asia ex-Japan equities is a high probability."
Investors such as Pictet Wealth Management expect Asian shares to see further earnings downgrades this year, as uncertainty around the global health crisis persists.
Consensus profit projections for MSCI Asia Pacific Index members over the next year are currently down just 11% from January. Goldman Sachs Group Inc. has a more aggressive forecast of a 22% slump for Asia Pacific ex-Japan companies in 2020.
"We are continuously revising downwards our expectations for countries like India, Indonesia, Malaysia, the Philippines and Thailand, and those downgrades are not over," said David Gaud, Pictet's chief investment officer for Asia.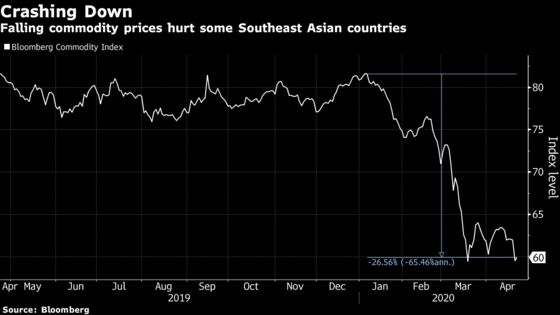 Gaud said Southeast Asian countries are particularly at risk, as the collapse in commodity prices slows down company revenues and hits domestic demand. Tumbling prices from crude to palm oil are reverberating across the region, which is heavily reliant on commodity and agriculture exports. The Bloomberg Commodity Index has fallen 26% this year.
"For now, investors believe (at their peril) in the V-shape recovery politicians are promising them, and thus far CEOs have not really denied that scenario, but we are only at the beginning of the earnings season," d'Assier said.