Rise in Asset Correlations Signals Risk of Volatility, Citi Says
(Bloomberg) -- Major asset classes have been moving ever more in lockstep over the summer, which increases the risk of a spike in volatility, according to Citigroup Inc.
The correlation between U.S. Treasuries, the S&P 500 Index, crude oil and the dollar has been increasingly recently, a pattern that often gives way to a spurt in market volatility, strategist Jason Williams wrote in a recent note. The bond market is most at risk, given its recent relative stability, he said.
"Elevated correlations imply that trades in different asset classes may be essentially equivalent and therefore investors end up in crowded positioning without even realizing it," he wrote. "The subsequent unwinding of these positions may then drive a significant increase in volatility."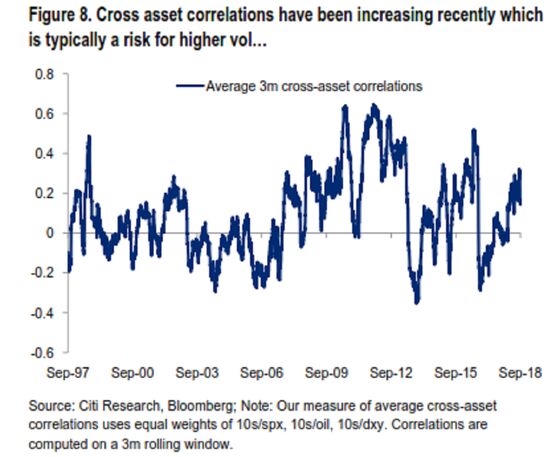 A significant increase in Citi's measure of cross-asset volatility was seen before Russia's default and the subsequent collapse of the highly leveraged hedge fund Long-Term Capital Management in 1998, as well as prior to the financial crisis, the strategist said.
In early February, a spike in volatility triggered a sell off in global stocks and slump in bond yields. The MSCI All Country World Index declined over four percent that month and the Cboe Volatility Index soared almost 50 percent.
Still, while the short-term risks for fixed income volatility are high, the continued flattening of the U.S. yield curve means the price swings won't remain elevated on a permanent basis after rising, according to Williams.